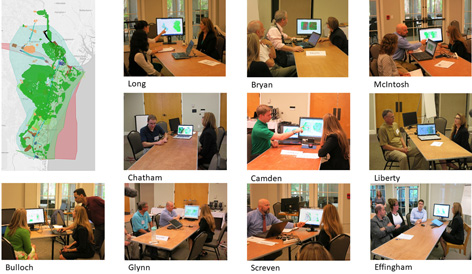 Experiences in Geodesign in Georgia, USA
Abstract
Collaborative planning in the coast of Georgia, USA, at the regional scale, by applying a Geodesign framework used for the evaluation and negotiation of alternative plans from multiple stakeholders, using innovative tools for assessing, visualizing and sharing proposals. Each project evaluated issues of conservation, resilience, and regional development in a sensitive coastal area, with great historic and ecological value, in a region that has been exposed to the impacts of two hurricanes in the past three years. The second project integrates two dynamic models for ecological connectivity and for land use allocation using the most recent green infrastructure national datasets. A single negotiated regional plan was the result that will be used for future planning efforts by the coastal regional agency as well as other stakeholders.
Keywords
Geodesign; coastal planning; resilience
References
Blake, E. S., Rappaport, E. N., & Landsea, C. W. (2007). The deadliest, costliest, and most intense United States tropical cyclones from 1851 to 2006 (and other frequently requested hurricane facts). NOAA/National Weather Service, National Centers for Environmental Prediction, National Hurricane Center.
Campagna, M., Steinitz, C., Di Cesare, E. A., Cocco, C., Ballal, H., & Canfield, T. (2016). Collaboration in planning: The Geodesign approach. Rozwój Regionalny I Polityka Regionalna, (35), 55–72.
Rivero, R. G., Smith, A., Orland, B., Calabria, J., Ballal, H., Steinitz, C., Perkl, R., McClenning, L. & Key, H. (2017). La conception géographique pluriéchelle et pluriadministrative : la région côtière américaine de la Géorgie. Canadian Society of Landscape Architects, Landscapes/Paysages, 19, 43-49. Retrieved from http://www.csla-aapc.ca/csla-aapc
Rivero, R.G., Smith, A., Orland, B., Calabria, J., Ballal, H., Steinitz, C., Perkl, R., McClenning, L. & H. Key. 2016. Multiscale and multijurisdictional Geodesign: the Coastal Region of Georgia, USA. Geodesign Summit Europe. Delft, The Neetherlands. In publication.
Rivero, R. G., Smith, A., Ballal, H., & Steinitz, C. (2015). Promoting Collaborative Geodesign in a Multidisciplinary and Multiscale Environment: Coastal Georgia 2050, USA. In Buhmann, E., Ervin, S. M. & Pietsch, M. (Eds.). Proceedings of Digital Landscape Architecture 2015 at Anhalt University of Applied Sciences. (pp. 42-58). Dessau, Germany.
Rivero, R G., Smith, A.L., & Alfonso, M. (2017). Resilience in coastal regions: the case of Georgia, USA. In Steinberg, S.L. and S. Steinberg GIS Applications for Resilience: Across Spatial Geographies. Redlands, CA: ESRI Press. In publication
Smith, A.L. & Rivero, R.G. (2016) Designing the future of Coastal Georgia with Geodesign technologies. Proceedings of 2016 Geodesign Summit. Redlands, CA: ESRI.
Steinitz, C. (2012). A framework for Geodesign: changing geography by design. Redlands, CA: ESRI Press.
University of Georgia. (2014). Hazard and Resilience Plan for the Coast of Georgia. College of Environment and Design, Environmental Planning Studio I Report. Prepared for the Coastal Regional Commission of Georgia.
Wilson, T. D. (2015). The Oglethorpe Plan: Enlightenment Design in Savannah and Beyond. Charlottesville, VA: University of Virginia Press.
Refbacks
There are currently no refbacks.
Copyright (c) 2018 Rosanna G Rivero, Alison Smith, Hrishikesh Ballal, Carl Steinitz, Brian Orland, Lupita McClenning
DISEGNARECON
ISSN 1828 5961
Registration at L'Aquila Law Court no 3/15 on 29th June, 2015.
Indexed in SCOPUS. Diamond Open Access. All papers are subjected to double blind peer review system by qualified reviewers.
Journal founded by Roberto Mingucci