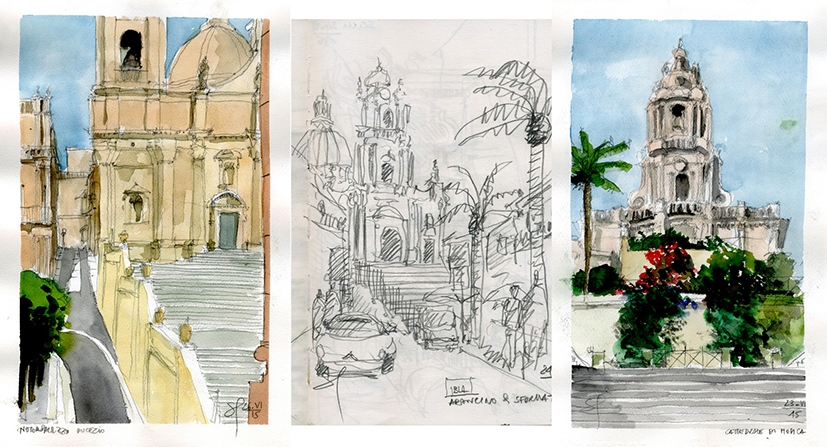 The overlapped skyline of the Baroque cities in the Val di Noto.
Abstract
The urban landscape of the Val di Noto has an extraordinary charm, not only for the architectural features of the Baroque, which are present in the historic centers, but also and above all, for the incredible relationship with the complex and steep morphology, made up of narrow valleys and slopes strongly accentuated. This generates strongly "vertical" urban landscapes, with overlaps systems of very interesting prospects. This article aims to show how the global representation of this urban typology is different and interesting, through the drawing of its landscapes, with the stratification of its buildings and the extraordinary presence of stairs as road links and with the relationship between buildings that orients the town views in vertical direction. The work of representation of these historical centers, presented here, is the result of three years of on-site workshops, held with a group of American students, precisely on the theme of the drawing of Sicilian baroque.
The main innovation was in the changing of the traditional system of representation of the horizontal urban view, with a descriptive organization that presented, through vertical fragments, the system of overlapping spaces. This system had as its main cultural references the travels in the Middle East and the graphic description of medinas developed in height, very frequent in the Maghreb, starting from the Tunisreise of Klee, Macke and Moilliet, to the drawings of Matisse for Tangier; or to the vertical views of Renoir of Algiers.
Keywords
Skyline, Val di Noto, Urban landscape, Drawing, Baroque.
Refbacks
There are currently no refbacks.
Copyright (c) 2019 Salvatore Santuccio
DISEGNARECON
ISSN 1828 5961
Registration at L'Aquila Law Court no 3/15 on 29th June, 2015.
Indexed in SCOPUS. Diamond Open Access. All papers are subjected to double blind peer review system by qualified reviewers.
Journal founded by Roberto Mingucci