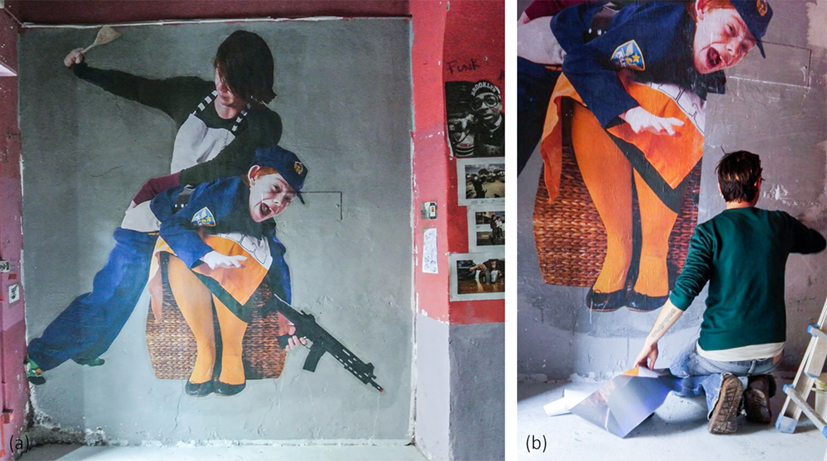 Street art as a flower in the cement for urban regeneration. Interview with the street artist Bifido
Abstract
The subject of study is part of the disciplinary context of drawing. This work was born from the idea to question on most give the word to a major exponent of the street art movement and clarify the most diffused insights about this type of representation and communication. The aim is to highlight a valid point of view from those who grew up and live daily with street art, and, therefore, study the link between the representations of street art and the buildings on which they are drawn, the methodologies of geometric representation and the dissemination language used by street artist, and the relation that exists with the topic of urban regeneration. The inter-view, object of this study, was made with a street artist from the city of Caserta, whose art name is Bifido. The intention is therefore to analyze, through the critical comparison with the artist, and through the technical and graphic analysis, the link that exists between street art, intended as the elaboration of one or more visual images, and the historical and social regeneration of specific urban contexts. By studying the point of view of an actual exponent in this sector, we can better understand the sense of art that lies behind those innumerable designs that increasingly take shape and relief in the cities in which we live. The urban art, in all its forms and techniques, is an effective method to enhance the city, when it shows misery and negligence, giving it a new valuable look, and motivating a new process of reconstruction and modernization of the sor-rounding. Indeed, this activity must necessarily be followed by precise and punctual architectural interventions. Street art alone is not enough. It is like a flower in the cement.
DOI: https://doi.org/10.20365/disegnarecon.24.2020.i3
Keywords
Keywords: street artists; visual communication; suburban regeneration; interview
Refbacks
There are currently no refbacks.
Copyright (c) 2020 Margherita Cicala
DISEGNARECON
ISSN 1828 5961
Registration at L'Aquila Law Court no 3/15 on 29th June, 2015.
Indexed in SCOPUS. Diamond Open Access. All papers are subjected to double blind peer review system by qualified reviewers.
Journal founded by Roberto Mingucci