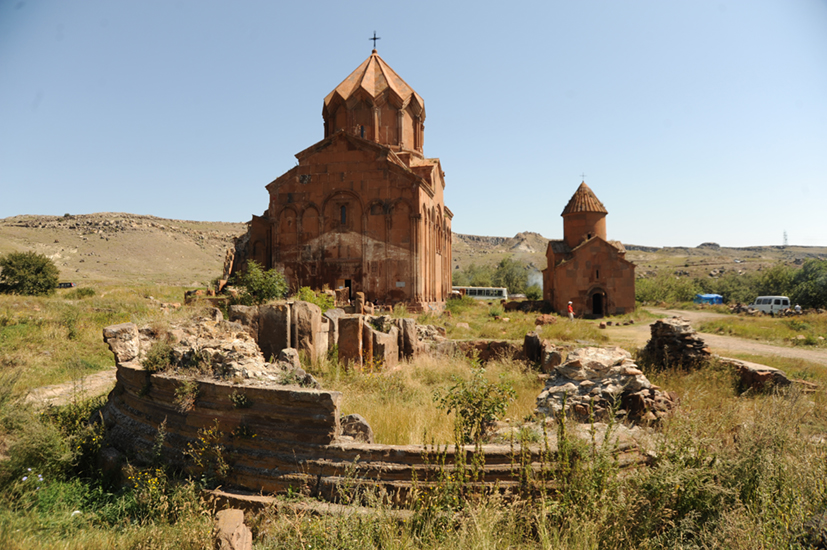 The theme of a Domed Rotunda in Ani School of Armenian Architecture during the Bagratids' Era: Interpretation of the Classical Image
Abstract
This article briefly reviews the advancing of a domed rotunda to Ani (or metropolitan) school of Armenian architecture being a significant and in some aspects unique tendency of medieval church architecture. The evidence will be considered in the context of the appeal to the Classical Antique tradition by medieval artists, architects, and patrons. That evidence could be analyzed through interpretations of the Classical images and architectural shapes realized by the builders of churches of Ani and surrounding monasteries mostly of the late-10th – early-11th centuries.
The main goal of the study is a demonstration of the evolution of the architectural image of centrally-planned churches created in Ani, on the ways of the interest of the theme of rotunda. Methods used by architects for maximal articulation of that theme discover in the article. Particularly, the phenomenon intensifies in the first half of the 11th century, when architects developed the idea of Classical rotunda set on the generalized socle crowned with cornice or decorated with a kind of profile. At the same time, they developed the blind arcade bringing it closer to the complete order. Niches disappear from the architecture of large rotundal structures, and nothing hints at the internal structure of buildings at all. Popular thesis about the correspondence of the external composition to the internal structure of medieval Armenian constructions almost rejects in the course of studying the architecture of the Bagratid era. That is why structurally different domed plans could be combined with the theme of rotunda.
DOI: https://doi.org/10.20365/disegnarecon.25.2020.6
Keywords
Armenian Architecture, Ani, rotunda, metropolitan architectural school, Trdat
Refbacks
There are currently no refbacks.
Copyright (c) 2020 Armen Kazaryan
DISEGNARECON
ISSN 1828 5961
Registration at L'Aquila Law Court no 3/15 on 29th June, 2015.
Indexed in SCOPUS. Diamond Open Access. All papers are subjected to double blind peer review system by qualified reviewers.
Journal founded by Roberto Mingucci