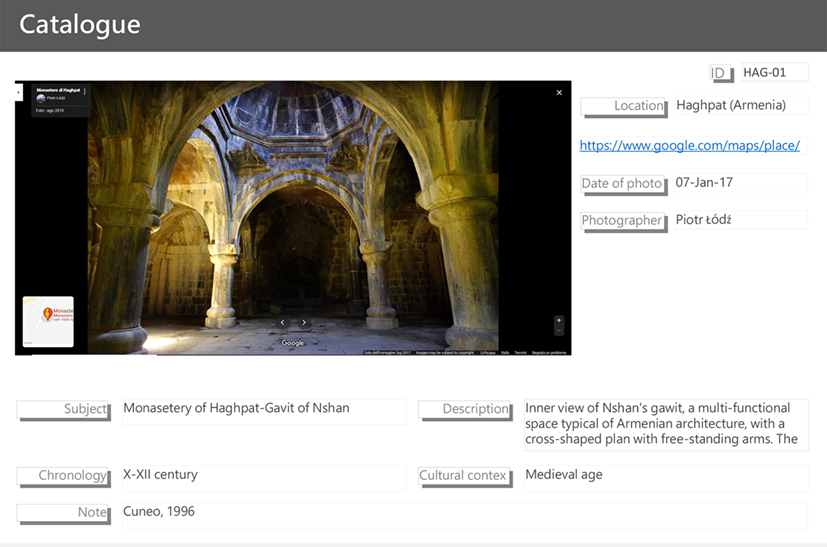 Open-access web mapping as a virtual survey tool for cultural heritage: an application to the Armenian religious architecture documented by Paolo Cuneo
Abstract
Current state of conservation of cultural heritage plays a key role in the safeguard process, especially in the case of assets exposed to natural hazards including earthquakes. National and International guidelines and many studies recommend interdisciplinary methods, which can exploit the tools offered by the world of the Information and Communication Technology (ICT). The latter is largely employed in the case of the cultural heritage valorisation and virtual fruition by a large audience, but recent emergencies induced by natural hazards empowered a renewed approach to the condition assessment and monitoring of architectural and artistic assets. On the other hand, a large amount of information is available on the world wide web and many open access web mapping platforms are very effective in providing graphical and visual representation of urbanised areas.
In the present paper, the use of web-based tools and platforms is investigated and evaluated from the perspective of selected users, namely restorer architects and structural engineers, whose skills and competences need to be integrated for a safe and reliable risk management of historical and architectural assets. The investigation is inspired by the experience of Paolo Cuneo and his contribution to the documentation of the Middle East architectural culture and aims at extending and transferring to the modern times his lessons. Herein, the attention is focussed on the Monastery of Haghpat, North Armenia, whose main characteristics are briefly recalled along with the outcomes of the virtual survey and its features.
DOI: https://doi.org/10.20365/disegnarecon.25.2020.7
Keywords
Heritage interpretation; Preventive conservation; Documentation; Condition assessment; Virtual survey
Refbacks
There are currently no refbacks.
Copyright (c) 2020 Adriana Marra, Giovanni Fabbrocino
DISEGNARECON
ISSN 1828 5961
Registration at L'Aquila Law Court no 3/15 on 29th June, 2015.
Indexed in SCOPUS. Diamond Open Access. All papers are subjected to double blind peer review system by qualified reviewers.
Journal founded by Roberto Mingucci