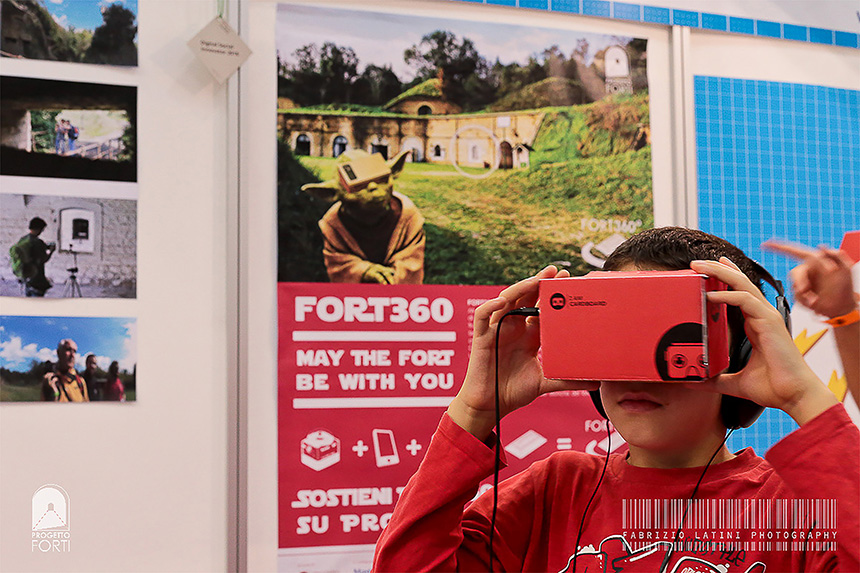 Edutainment, cultural innovation and social inclusion. Fort360, a project for cultural heritage enhancement
Abstract
 Fort360 project is a cultural initiative that receives the main directives of edutainment processes, trying to provide an answer to the necessity of a capillary system of information and awareness about the dismissing cultural heritage. 
The proposed study – carried out in the Fort Bravetta, Rome – presents a video where the educational aspect, related to the historical and architectural site contents, is strictly connected with the playful and emotional quality, resulted from a VR interaction with a panoramic video. 
This first case study focuses on the use of low-cost digital instrumentation and tries to improve the value of culture from the bottom, proposing an alternative way of cultural heritage enjoyment, based on participation and on interdisciplinarity of the proposed contents.
Keywords
Fort Bravetta; Social inclusion; Eduteinment; 360 videos; Storytelling.
References
Dilthey, W. (1906). Das Erlebnis und die Dichtung: Lessing, Goethe, Novalis, Holderlin, (v.26), Göttingen, Germania: Vandenhoeck & Ruprecht.
Varani, A. (2004). Realtà virtuale, apprendimento e didattica. In Informatica & scuola. n.3.
White, H. (2006). Forme di storia: dalla realtà alla narrazione. Roma, Italia: Carocci editore.
Spengler, O. (2008). Il Tramonto dell'occidente. Milano, Italia: Longanesi Edizioni.
Accolla, A. (2009). Design for all. Il progetto per l'individuo reale. Milano, Italia: Franco Angeli Edizioni.
Cappellini, V. (2009). La realtà virtuale per i beni culturali. Bologna, Italia: Pitagora Editrice.
Sacerdoti, F. M. (2009). New user interfaces for the fruition of cultural heritage. In Atti del Convegno internazionale Techa 2008. Technologies exploitation for the cultural heritage advancement (pp-72-73). Roma, Italia: Gangemi editore.
Cervellini, F. & Rossi, D. (2011). Comunicare emozionando. L'edutainment per la comunicazione intorno al patrimonio culturale. In Disegnare Con, n.8, vol.4, Tecnologie per la comunicazione del patrimonio culturale, a cura di Elena Ippoliti e Alessandra Meschini, pp.48-55.
Pietroni, E. (2011). Ricostruzioni nel Patrimonio culturale: il museo virtuale della via Flaminia Antica. In Lucilla Rami Ceci (a cura di), Luoghi e oggetti della memoria. Valorizzare il patrimonio culturale. Studio di casi in Italia e Germania, Roma, Italia: Armando Editore.
Rosa, P. & Studio Azzurro (2011). Dai musei di collezione ai musei di narrazione. In Disegnare Con, n.8, vol.4, Tecnologie per la comunicazione del patrimonio culturale a cura di Elena Ippoliti e Alessandra Meschini, pp.129-138.
Galofaro, F., Gasperi, D., Proni, G. & Ragonese, R. (2013). Semiotica e ICT per i beni culturali, Milano. Italia: Franco Angeli edizioni;
Empler, T. (2015). APP design con uso della realtà aumentata per la divulgazione dei Beni Culturali. In Disegnare idee immagini, 50, pp. 60-69.
Pizzato, R. (2016). Il Virtual Reality Cinema, ultima consultazione 19 dicembre 2016, da http://www.prismomag.com/virtual-reality-cinema/.
Refbacks
There are currently no refbacks.
Copyright (c) 2017
DISEGNARECON
ISSN 1828 5961
Registration at L'Aquila Law Court no 3/15 on 29th June, 2015.
Indexed in SCOPUS. Diamond Open Access. All papers are subjected to double blind peer review system by qualified reviewers.
Journal founded by Roberto Mingucci