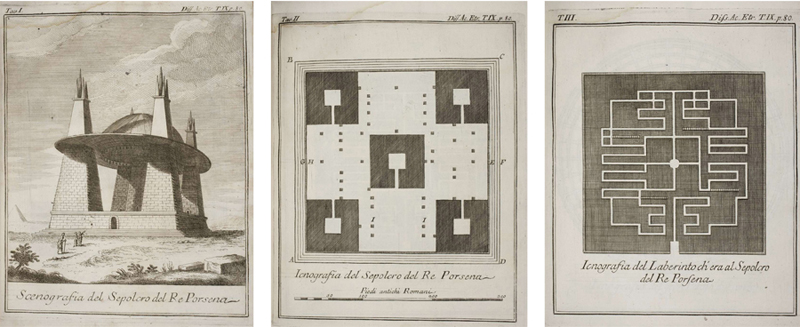 INTANGIBLE ARCHEOLOGY. Architectural surveying and digital reconstruction of the Porsenna tomb as described by Baldassarre Orsini (1732-1810)
Abstract
The contribution presents the intangible archaeological survey of an architecture as majestic as it is legendary: the tomb of the Etruscan lucumone (king) Lars Porsenna. Among the historical studies devoted to this monument, the contribution focuses on the interpretative description provided by the learned Perugian Baldassarre Orsini (1732-1810), which differs from the precedents for the concrete character and the attention he gives to the proportional and constructive aspects, as well as being accompanied by six explanatory tables. Digital restitution, as well as being a disciplinary opportunity able to suggest an unprecedented understanding of the archaeological survey, has led to the creation of an immersive video animation and a plastic model obtained through 3D additive printing, which marked the multimedia section of a dedicated exhibition initiative.
Keywords
intangible archeology; legendary architectures; survey of described-drawn architectures; 3D digital modeling; communication and dissemination of architecture
Refbacks
There are currently no refbacks.
Copyright (c) 2018 Paolo Belardi, Valeria Menchetelli
DISEGNARECON
ISSN 1828 5961
Registration at L'Aquila Law Court no 3/15 on 29th June, 2015.
Indexed in SCOPUS. Diamond Open Access. All papers are subjected to double blind peer review system by qualified reviewers.
Journal founded by Roberto Mingucci