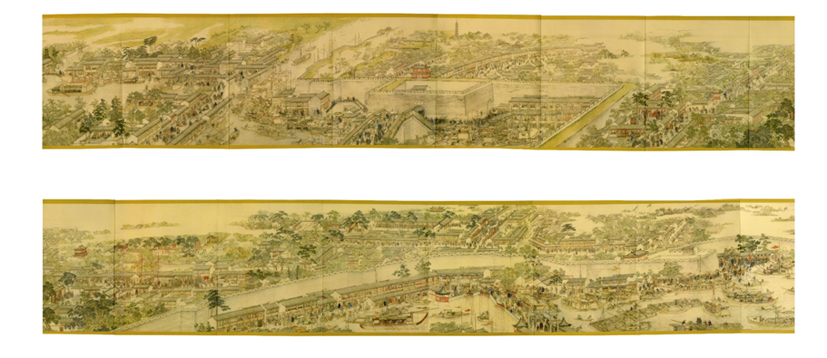 The Suzhou handscroll: oblique images of a Far East city between remembrance and future
Abstract
The essay offers a glimpse of the work developed by Imago Rerum team, concerned to University of IUAV/dCP in Venice, about the critical interpretation and digital reconstruction of the renowned handscroll "Prosperous Suzhou (姑蘇繁華圖)", a Chinese work of art of the XVIII sec, depicting the Chinese city of Suzhou and its surroundings. The aforementioned team of experts carried out a complex research project which involved both the projection and reproduction of axonometric shapes and of orography and topography to the totality of the architectural elements illustrated. The original scroll is 12,41 mt long and 36,5 cm high and it is currently housed in Liaoning Provincial Museum, Shenyang, China. The author was Xu Yang, a court painter of the Qing Dynasty who spent 24 years working on the scroll. Only one section of the long handscroll is presented here, yet, the analysis of the chosen area allowed for the reveal of unprecedented details characterizing this work. One remark evaluates how the urban and topographical sequence follows the topological route instead of the actual landscape. The digital analysis and reconstruction of Suzhou 3D model, also allowed to rebuild lost sections of the prime urban reconfiguration and, in the near future, it will display in an interactive way a comparison between the painted historical city and the current one. Moreover, this work is noted for a combined use of oblique parallel projection, the Sino-Japanese classical art, and linear conic perspective. The latter was imported into China due the Jesuit missions: a semantic integration that conveys to the scroll an even more suggestive power of the relations between East and West at the doorstep of modernity.
Keywords
Urban Reconstruction; Digital Reconstruction; Virtual Landscape.
Refbacks
There are currently no refbacks.
Copyright (c) 2018 Agostino De Rosa, Alessio Bordot, Giulia Lazzaretto
DISEGNARECON
ISSN 1828 5961
Registration at L'Aquila Law Court no 3/15 on 29th June, 2015.
Indexed in SCOPUS. Diamond Open Access. All papers are subjected to double blind peer review system by qualified reviewers.
Journal founded by Roberto Mingucci