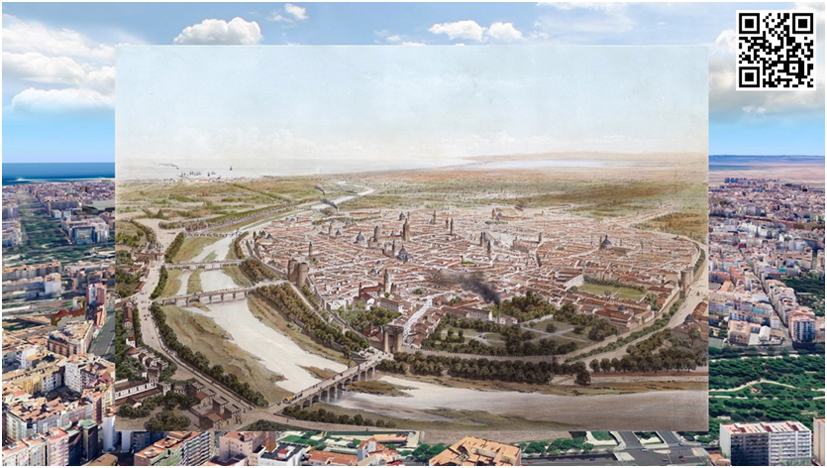 Valorization and dissemination of lost urban heritage. Valencia, the walled city
Abstract
This article shows a case study in which some new virtual musealization techniques such as immersive panoramic photography, rephotography and video animations have been used in order to valorize and disseminate many of the lost urban spaces of the city of Valencia in Spain, mainly those belonging to the ancient walled city. The whole Christian wall was demolished in 1865 along with the majority of the gateways by the governor Cirilo Amorós, with the exception of two of the main gates that were saved from demolition thanks to the fact that them were used as the jails of the city in that period. The research start with a compilation of the ancient representations of the city that has been carried out in order to analyze the urban evolution of the city. The main aim of the study is to develop an interactive visualization of the lost walled city combining a breathtaking ancient bird‐eye view by the French architect and lithographer Alfred Guesdon, with an aerial spherical panorama of the current city, which will allow the user to compare how the city has evolved in the last centuries. In order to do so, a thorough study of perspective in the ancient drawing has been carried out to accurately restore the viewpoint. Those views have also been used to create an elaborated video animation that will allow the viewer to get immersed inside the ancient city as in a sort of journey into the past in order to recover the memory of the lost walled city. The interactive results can be visualized though the Internet and some links and QR codes will be given at the end of the article in order to allow everyone, by means of a computer or even a mobile device, such as a smartphone, to visualize all the generated contents.
Keywords
Virtual musealization; Rephotography, Spherical Panorama; Perspective;
Refbacks
There are currently no refbacks.
Copyright (c) 2018 Pedro Manuel Cabezos-Bernal, Juan José Cisneros-Vivó
DISEGNARECON
ISSN 1828 5961
Registration at L'Aquila Law Court no 3/15 on 29th June, 2015.
Indexed in SCOPUS. Diamond Open Access. All papers are subjected to double blind peer review system by qualified reviewers.
Journal founded by Roberto Mingucci