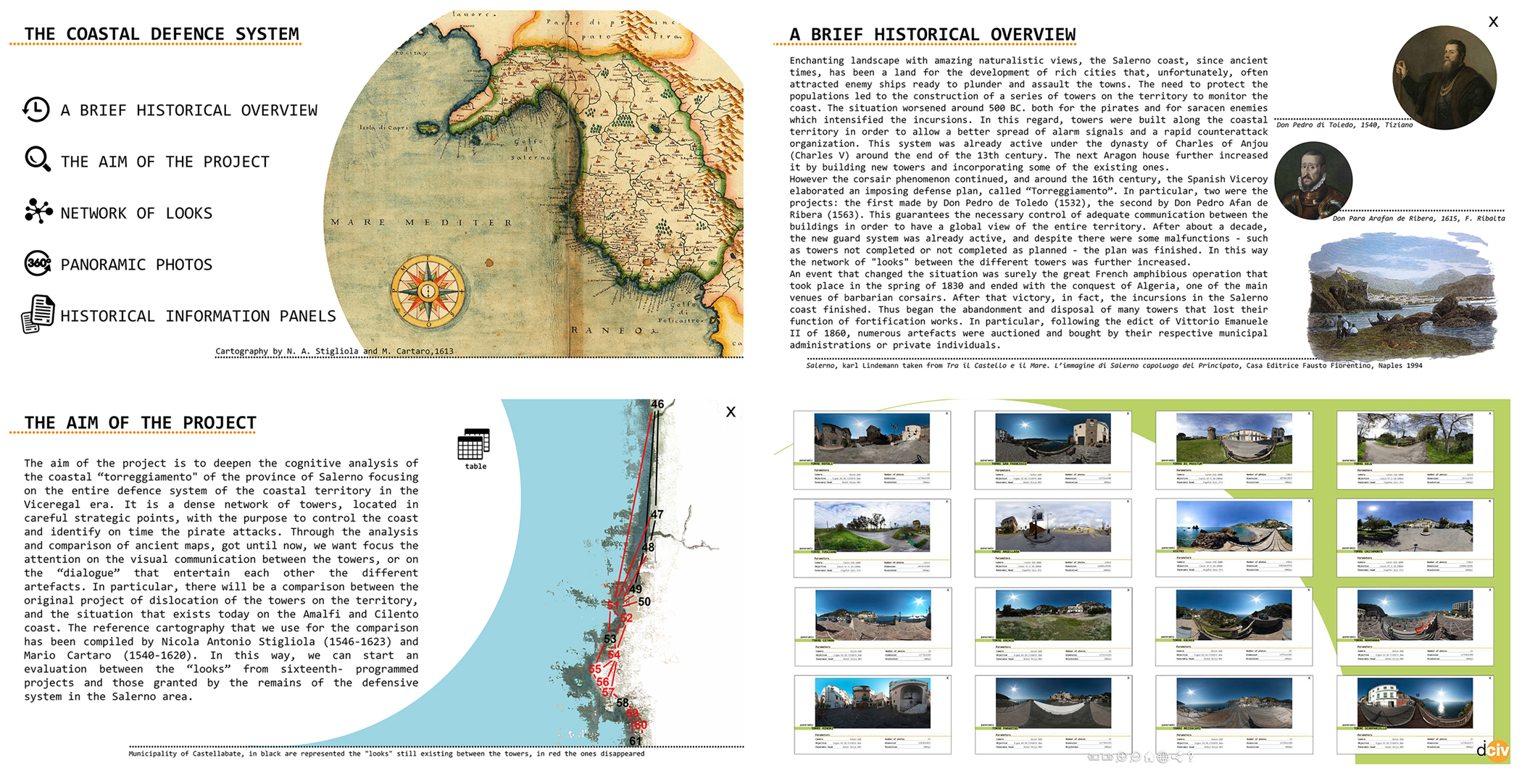 Virtual tour through the towers of the defensive system in the province of Salerno
Abstract
The coastal towers of the defensive system in the province of Salerno are architectures developed over time; they are buildings belonging to an extended strategic plan of the coastal territory useful to defend populations and cities from the ancient enemy attacks. Hence, their location comes from careful studies in which the orographic characteristics of the place and the visual connection between a tower and another played a fundamental role.
The aim of this work is to focus the attention on the visual communication between the towers, or on the "dialogue" that the different artefacts entertain each other. In order to pursue this objective, a virtual tour that connects the different ancient buildings was generated. Operating in this way, in fact, it will be possible to relate the different sites where the ancient buildings are located, through hotspots or directly on the map, and to move in different points of observation.
The attention, therefore, will be focused not only on the single tower but also on the visual connections that existed between the different structures in order to understand the communication strategy that was at the base of the defensive system project. In addition, it is possible to include additional information panels to query, according to user needs, for the virtual visit. The sharing on internet of the virtual tour allows to transmit information and to live experiences in any time and in any part of the world, as well as, to increase the interest to the fascinating places of our territory often unknown.
Keywords
History; panoramic photo; tower; cultural Heritage; landscape
Refbacks
There are currently no refbacks.
Copyright (c) 2019 Sara Morena, Simona Talenti
DISEGNARECON
ISSN 1828 5961
Registration at L'Aquila Law Court no 3/15 on 29th June, 2015.
Indexed in SCOPUS. Diamond Open Access. All papers are subjected to double blind peer review system by qualified reviewers.
Journal founded by Roberto Mingucci