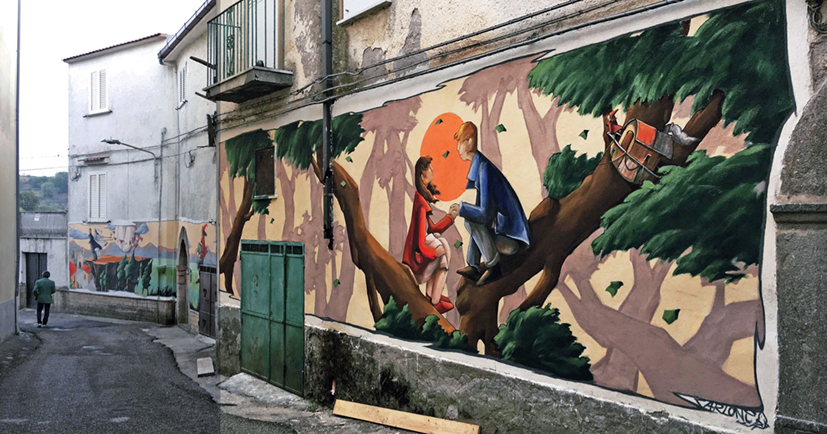 Urban and community renaissance in the Caserta area: the "arts village" of Valogno
Abstract
In the territory of Caserta, among the twenty-four villages near Sessa Aurunca, an exceptional presence for its intermittent history of light and shadow, grey and colours, is that of Valogno, a small village lying on a branch of the provincial road that from the Appian Way reaches Roccamonfina, on the slopes of the homonymous volcano.
This paper, integrating aspects of urban history with those of the discipline of drawing, aims to bring Valogno to the attention of the scientific community as a unique example of the application of street art to urban regeneration, in its ethical declination, before its artistic one.
The street-art project (titled "The colours of grey" by the promoters) was moved on the one hand by the need to start a path of individual renaissance, and on the other by the idea of involving the entire local community to increase its sense of civic duty, rather than to business. The project has been developed with progressive enthusiasm over the last decade, managing to characterize this village as a singular "arts village", because it uses arts as a tool to push individual citizens to "give themselves" in favour of the welfare of the community.
Keywords
Street art; Urban regeneration; History of the city; Inner areas; Valogno
Refbacks
There are currently no refbacks.
Copyright (c) 2020 Ornella Cirillo, Pasquale Argenziano
DISEGNARECON
ISSN 1828 5961
Registration at L'Aquila Law Court no 3/15 on 29th June, 2015.
Indexed in SCOPUS. Diamond Open Access. All papers are subjected to double blind peer review system by qualified reviewers.
Journal founded by Roberto Mingucci