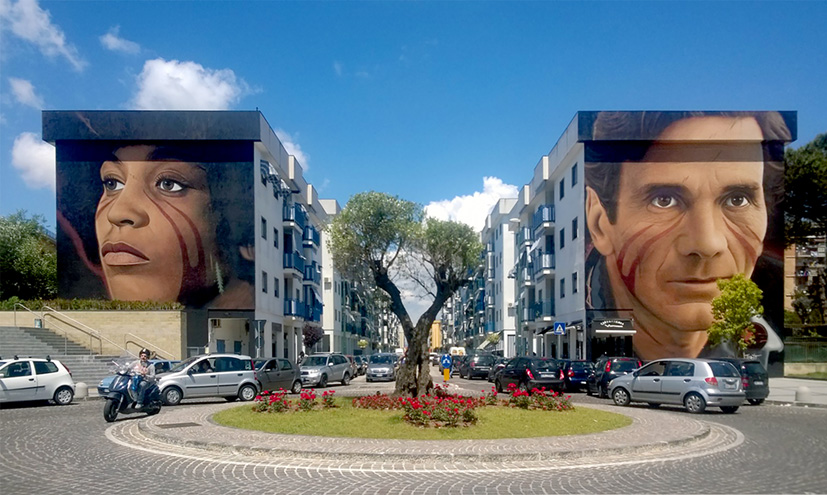 Drawing on the walls of the Naples' VIII Municipality. Social stories and technological portals.
Abstract
This contribution brings a critical reflection on the Street Art's role in relation to the degraded urban places of the city and highlights how it is becoming a vehicle of urban regeneration through a graphic evocation concept of beauty. On this premise, the Street Art production in the Districts of Scampia, Piscinola, Chiaiano and Marianella (northern suburbs of Naples, corresponding to VIII Municipality) will be examined. Through the disciplinary of drawing, will be investigated the design choices which interact with urban context spatial characteristics where murals are placed; quality of the wall; physical dimensions of the works produced; multiplicity of points of view which these social stories activate with places and people. Specifically, will be examined the works of street artists (in architectural and urban scale) such as: Nafir, Xamoosh, Raro, Jorit Agoch, Aiello, Teso and others. Finally, attention will focus to the 'impermanence', the Achilles' heel of this Art. With the help of information technologies and with Memorandum of Understanding, which will be signed between the actuators, it proposed to create a social work to be placed in the Underground stations of Piscinola-Scampia and Chiaiano Marianella. The project consists to create a 'virtual map' inserted into totems or 'technological portals', informing both cultural activities in the VIII Municipality and social redemption action promoted by Street Art of which, through 'virtual reconstruction', the lost or degraded works are documented.
Keywords
Street Art; drawing; suburb; technological portals
Refbacks
There are currently no refbacks.
Copyright (c) 2020 Vincenzo Cirillo, Luciano Lauda, Igor Todisco
DISEGNARECON
ISSN 1828 5961
Registration at L'Aquila Law Court no 3/15 on 29th June, 2015.
Indexed in SCOPUS. Diamond Open Access. All papers are subjected to double blind peer review system by qualified reviewers.
Journal founded by Roberto Mingucci