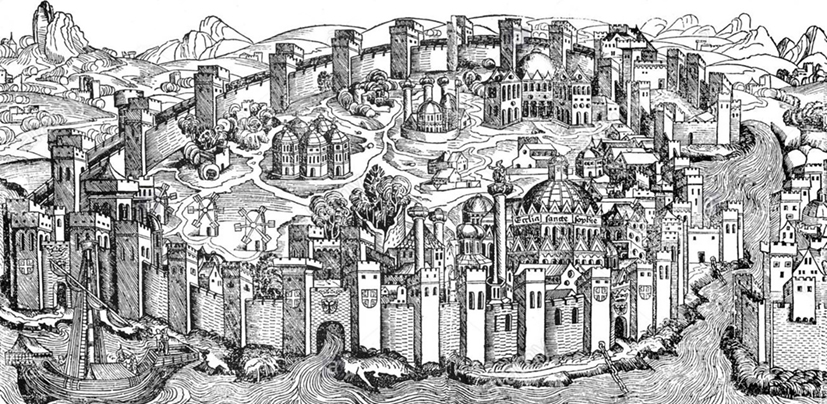 Constantinople viewed by the Renaissance-era West
Abstract
This study revolves around a reading of the main aspects of how Constantinople was depicted by Western scholars during the Renaissance. The illustrations considered as a semiotic system are bird's-eye views of the city in printed works, done from 1420 to the late sixteenth century. From a sizable specific documentary corpus, bird's-eye views were selected where the characteristics of the environment and buildings were easily visible. We consider the ways this major trade centre, the linchpin between East and West with frequent contacts with Genoa and Venice, was depicted. As for visual culture, the study draws an analysis – graphic and geometric, social and technical – of these illustrations chronologically, comparing them with other city images from the period, and maps, to comprehend the mechanism of urban depiction during the Renaissance. The relationship of similarity was considered to define the iconic system'soperation in relation to the real one. Depictions of Constantinople are taken as a paradigm of a form of communication typical of the time, when the city was the engine for activity of all kinds. Nor are the makers of these images neglected: cartographers, draughtsmen, early archaeologists, engravers, printers, artists and travellers – true protagonists in a season abundant in cultural manifestation.
DOI: https://doi.org/10.20365/disegnarecon.25.2020.9
Keywords
Iconography; Constantinople; Renaissance; visual culture; city images
Refbacks
There are currently no refbacks.
Copyright (c) 2020 Pasquale Tunzi
DISEGNARECON
ISSN 1828 5961
Registration at L'Aquila Law Court no 3/15 on 29th June, 2015.
Indexed in SCOPUS. Diamond Open Access. All papers are subjected to double blind peer review system by qualified reviewers.
Journal founded by Roberto Mingucci