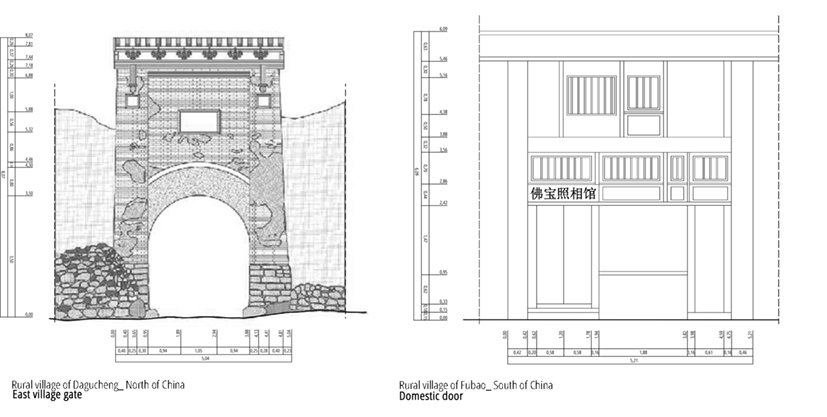 The gate/door as a border. Forms and types in Chinese villages
Abstract
The drawing of architecture is the discipline that better than others offers the useful tools for the study of places, historical artefacts and architectural elements that characterize those spaces; the survey, in its broadest sense of knowledge, offers the basis for a systematic documentation, cataloguing and consequent classification of the real.
This consolidated awareness defines the foundations of the research, focused on the architectural heritage of the ancient Chinese villages, the only custodians of the historical and cultural memory of China.
The survey process, extended to the two regions in which the country is divided, has focused on the analysis of common typological elements. Among these, the research focused on the study of the entrance, both gate and domestic door, as a separating element between exterior and interior, public and private spaces, from macro to micro-scale.
In the operational approach, the study was conducted from direct observation of the types present in some suitably selected villages. From the sketches the formal characteristics have been recognized and ordered, whose qualitative attributes have been perfected with traditional and photogrammetric surveying operations. The results of the survey have been systematized in a first comparative synoptic chart that constitutes the first phase of a larger operation, oriented to the updating and enrichment of the documentation available to date both in terms of quality and refinement of the data.
DOI: https://doi.org/10.20365/disegnarecon.25.2020.20
Keywords
Chinese villages; village gates and doors; integrated surveys; representation; comparison
Refbacks
There are currently no refbacks.
Copyright (c) 2020 Massimiliano Campi, Valeria Cera, Marika Falcone
DISEGNARECON
ISSN 1828 5961
Registration at L'Aquila Law Court no 3/15 on 29th June, 2015.
Indexed in SCOPUS. Diamond Open Access. All papers are subjected to double blind peer review system by qualified reviewers.
Journal founded by Roberto Mingucci