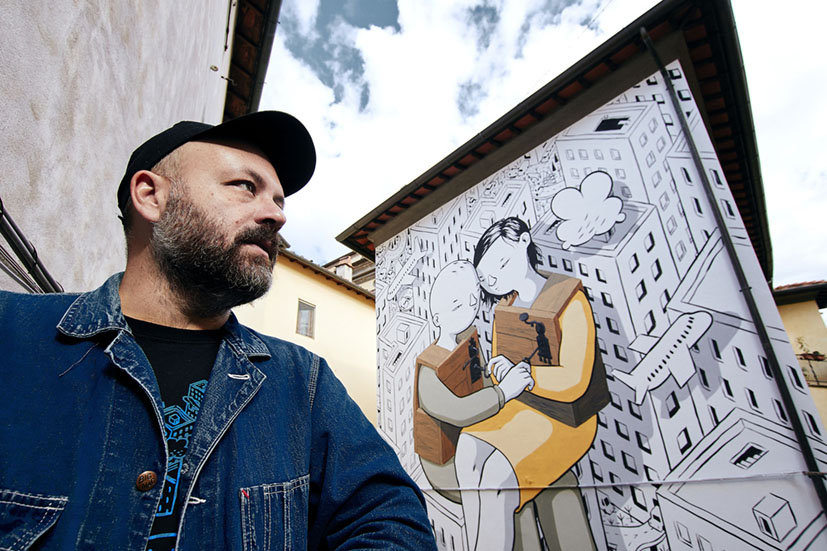 Drawing on the walls from architecture to street art. Interview with "MILLO" the street artist architect
Abstract
Francesco Camillo Giorgino in art MILLO was born in Mesagne in the province of Brindisi, in 2007 he graduated in architecture in Pescara, the city where he lives and which he considers foster. Street artist of international fame, he has created murals scattered in suburbs of Italian and continental cities, his works are distinguished by the constant presence of an anonymous and infinitely replicable urban context. The colorless habitat in which he inserts the pure and giant characters represent a satire of the contemporary way of life, the lack of urban planning choices that have failed to solve the problems related to public spaces, services, sociality, present in all the cities of the world. With the architect's critical eye he observes the spaces defined by the blind walls on which to intervene in order to launch messages, to stimulate attention and promote urban redevelopment initiatives. The interview concluded in the emergency moment of the pandemic. It was conducted in telematic way and offered the cue to interface and talk about possible alternative ways for street art, which the artist immediately implemented to create a charity work for the hospital of Pescara by drawing live on social networks.
The answers of Millo, artist of great sensitivity, help us to understand his artistic and social choices, his drawn messages that, as he likes to emphasize, leave ample space for the free interpretation of the viewers.
DOI: https://doi.org/10.20365/disegnarecon.24.2020.i5
Keywords
Street art; city; urban regeneration; Millo; 3d model.
Refbacks
There are currently no refbacks.
Copyright (c) 2020 Caterina Palestini
DISEGNARECON
ISSN 1828 5961
Registration at L'Aquila Law Court no 3/15 on 29th June, 2015.
Indexed in SCOPUS. Diamond Open Access. All papers are subjected to double blind peer review system by qualified reviewers.
Journal founded by Roberto Mingucci