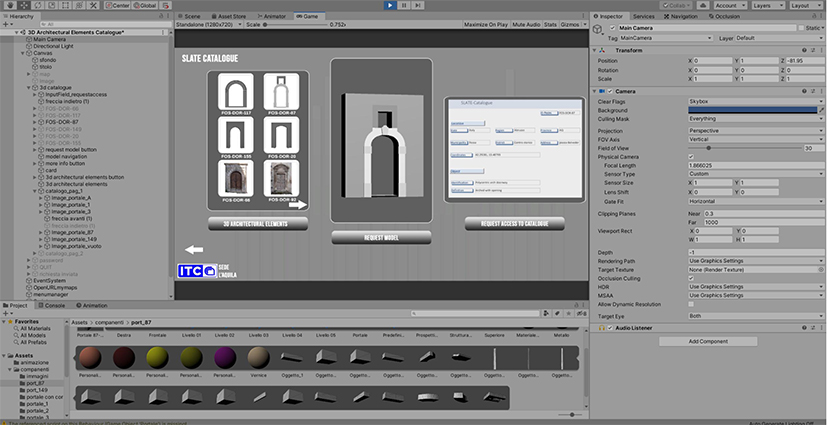 DIGITIZATION OF HISTORICAL ARCHITECTURAL ELEMENTS, A WORKFLOW FOR KNOWLEDGE OF MINOR CENTERS IN INNER AREAS
Abstract
The architectural heritage is subject matter of several scholars, whose approach depends upon the cultural and technical background, with the same objective of increasing its comprehension in order to protect and enhance it. A concurrent effort like this points out the need of a common and shared language and method to exchange data and knowledge. Digital models enriched by semantic engines are able to correlate several disciplines, facilitating data management and exchange for a real interoperability encouraging novel process of documentation and fruition of historical heritage. In this paper, an approach to the problem is discussed with reference to specific architectural elements, the historical portals. The key phases of an operational procedure are illustrated. They move from traditional approaches used in the field of buildings archaeology and architecture towards the implementation of parameterized architectural elements to be used in a Historical Building Information Model (HBIM). Moreover, an Integrated Information System of 3D architectural elements (3DIIS), in a virtual environment is presented, which respond to the needs of several disciplines. This Virtual Reality (VR) system, through open-access tools, guarantees the topological connection of the data to the digital model for sharing and the diffusion of the knowledge. An Augmented Reality (AR) application designed for mobile devices can achieve a twofold objective: i) support the digital management and preservation of the architectural assets by entrusted authorities ii) empower the memory of the sites and valorisation of historical heritage in Inner Areas.
DOI: https://doi.org/10.20365/disegnarecon.26.2021.9
Keywords
Architectural heritage; Inner areas; Digital model; Documentation; VR based Informative System.
Refbacks
There are currently no refbacks.
Copyright (c) 2021 Francesca Savini, Giovanni Fabbrocino, Adriana Marra
DISEGNARECON
ISSN 1828 5961
Registration at L'Aquila Law Court no 3/15 on 29th June, 2015.
Indexed in SCOPUS. Diamond Open Access. All papers are subjected to double blind peer review system by qualified reviewers.
Journal founded by Roberto Mingucci