DISEGNARECON is an international, on-line, open access and blind peer reviewed scientific journal focused on research and case studies in the fields of the architectural drawing and of the design representation and communication. It invites submissions on these topics and promotes discussion and debate between scholars from Engineering and Architecture Schools. The journal is published by the University of L'Aquila (Italy).
Editor in chief: Mario Centofanti
Editor: Roberto Mingucci 
Journal Manager: Stefano Brusaporci
Editorial Board: Enrico Cicalò, Ilaria Trizio
Scientific committee: (Italia) Mario Centofanti, Michela Cigola, Secondino Coppo, Patrizia Falzone, Francesca Fatta, Riccardo Migliari, Roberto Mingucci ; (Spagna) Pablo Rodriguez Navarro;  (Argentina) Mauro Chiarella; (Brasile) Altino Barbosa Caldeira, Ana Clara Mourão Moura.
Vol 9, No 17 (2016): VIRTUAL MUSEUMS OF ARCHITECTURE AND CITY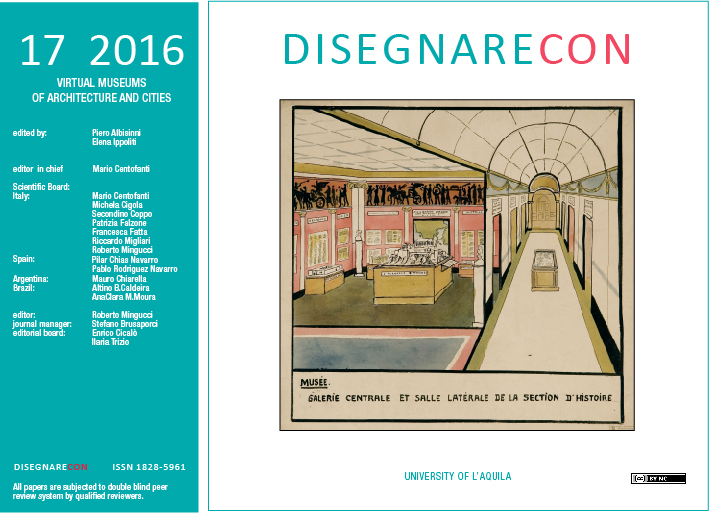 Edited by Piero Albisinni and Elena Ippoliti