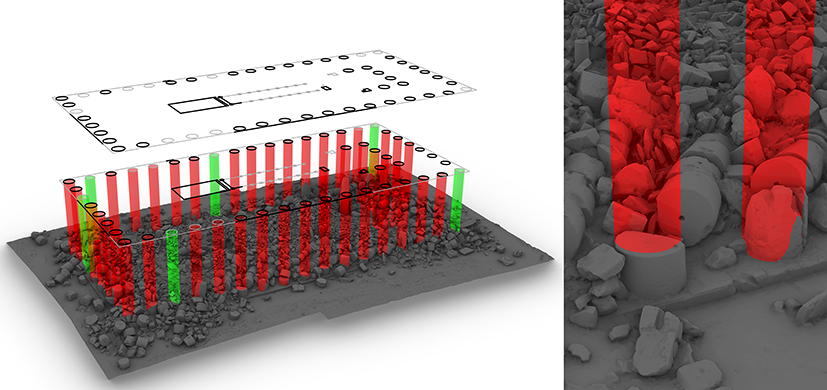 From aerial survey to representation and visualization: the Temple G of Selinunte.
Abstract
The paper reports the outputs of a research work focused on the segmentation of meshes generated from aerial photogrammetric survey, aiming at the implementation of a database integrated in a web-based Information System developed with 3D-Hop technology, that uses models as the access point to information data.
Segmentation is a relevant topic in cultural heritage documentation, since it is the a pre-requisite for the development of systems that connect information data to 3D models.
The chosen case study is the Doric Temple G of Selinunte, an archaeological site in southern Sicily. Temple G, one of the biggest Doric Temples of Magna Graecia, it is today a huge heap of ruins, probably due to one or more past earthquakes; though centuries have passed, ruined blocks often show their original shape.
The proposed segmentation workflow is based on the identification of the shape and position of the blocks in the original layout of the Temple, via the extraction of section profiles and the NURBS modelling.
The NURBS models have supported the virtual reconstruction of some columns of the southern front of the Temple; the reconstruction model has finally been used for the development of a video that uses motion tracking techniques for the visualization of the columns in the real scene in a footage taken with a drone.
DOI: https://doi.org/10.20365/disegnarecon.29.2022.2
Keywords
Temple G; Drones; Virtual reconstruction; Motion tracking; Video-compositing.
Refbacks
There are currently no refbacks.
Copyright (c) 2022 Fabrizio Agnello, Mirco Cannella
DISEGNARECON
ISSN 1828 5961
Registration at L'Aquila Law Court no 3/15 on 29th June, 2015.
Indexed in SCOPUS. Diamond Open Access. All papers are subjected to double blind peer review system by qualified reviewers.
Journal founded by Roberto Mingucci