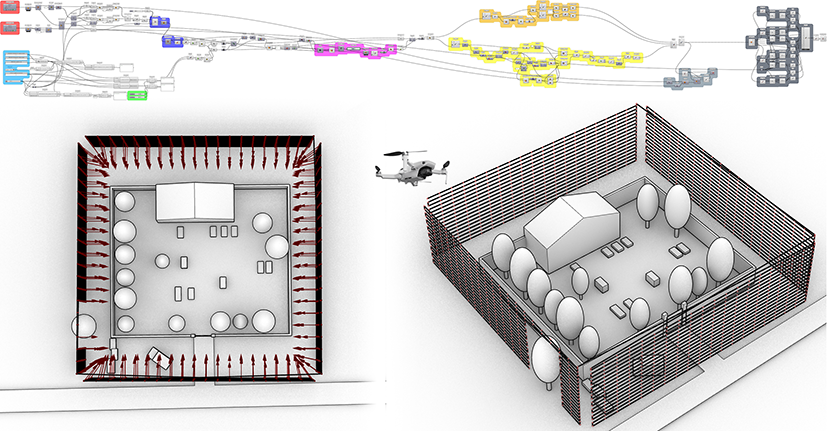 Tools development to optimize the use of micro-drones for architectural cultural heritage survey
Abstract
In view of the increasingly widespread use of inoffensive UAS for photogrammetric acquisitions in the architectural and infrastructural spheres, there is a need to be able to program flight missions suited to the operator's needs. This contribution presents the results of two experiments conducted by the research group. The first proposed procedure, based on low-cost instrumentation and algorithms in a VPL environment, fills the gap of proprietary applications and allows the coding and customisation of flight missions for photogrammetry. Obtaining this information is not always easy; immovable or unforeseen obstacles lead to lengthy post-production of the photogrammetric cloud to remove them. The second procedure, by constructing an object segmentation framework, fills this gap by automatically processing photogrammetric images by recreating masks that remove unwanted objects from the dense cloud calculation. Despite some shortcomings, the results are promising and manage to make up for these shortcomings, at least in part.
DOI: https://doi.org/10.20365/disegnarecon.29.2022.16
Keywords
UAS; VPL; autopilot photogrammetric survey; Mask R-CNN; object segmentation
Refbacks
There are currently no refbacks.
Copyright (c) 2022 Andrea Tomalini, Edoardo Pristeri, Jacopo Bono
DISEGNARECON
ISSN 1828 5961
Registration at L'Aquila Law Court no 3/15 on 29th June, 2015.
Indexed in SCOPUS. Diamond Open Access. All papers are subjected to double blind peer review system by qualified reviewers.
Journal founded by Roberto Mingucci