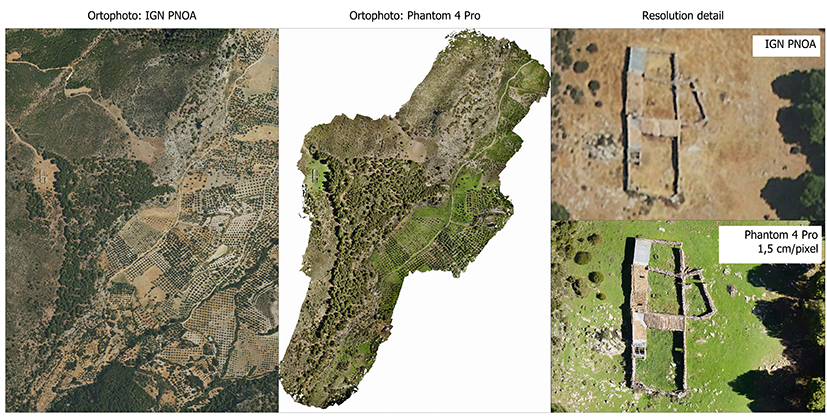 The documentation of archaeological heritage through aerial photogrammetry and UAS-based LiDAR: the case study of the Espique valley (La Peza, Granada, Spain)
Abstract
The graphic documentation of archaeological heritage has greatly evolved in the last decade thanks to the application of UAS (Unmanned Aerial System). The fast development of these allows for their use as a tool for the documentation of large areas with great efficiency. Furthermore, UAS versatility enables their use with several types of sensor (visible spectrum, multispectral, LiDAR…).
In this paper we present the application of two of these sensors (photo camera and LiDAR sensor) carried on UAS platforms to document the archaeological area of the Espique valley (La Peza, Granada), analysing its advantages and inconveniences. On the one hand, we have performed a photogrammetric flight with a DJI Phantom 4 Pro, georeferenced with Ground Control Points through a GNSS system. On the other hand, we have carried out a flight of the same area with a DJI Matrix 300 with a sensor LiDAR CHCNav AA450 as payload. The possibilities of both techniques have been already explored in literature, but mainly with LiDAR systems with lesser density coverages. This type of sensor has undergone a great evolution in the last years, allowing for a more widespread use in Archaeology.
The results of this research show the utility of both systems to a fast documentation of vast areas of terrain with a remarkable geometric and topographic quality. However, the LiDAR survey has displayed a better performance on those surfaces with higher vegetation, which hinders the photogrammetric survey. But LiDAR surveying with such number of points per m2 forces the use of automatic or semiautomatic classification algorithms. At the end, they are two complementary techniques that are a great step forward in the quality documentation of cultural heritage.
DOI: https://doi.org/10.20365/disegnarecon.29.2022.12
Keywords
LiDAR; photogrammetry; UAS; archaeology; graphic documentation
Refbacks
There are currently no refbacks.
Copyright (c) 2022 Jesús María Rodríguez Bulmes, José Antonio Benavides López, Pablo Romero Pellitero, José María Martín Civantos, Jorge Rouco Collazo
DISEGNARECON
ISSN 1828 5961
Registration at L'Aquila Law Court no 3/15 on 29th June, 2015.
Indexed in SCOPUS. Diamond Open Access. All papers are subjected to double blind peer review system by qualified reviewers.
Journal founded by Roberto Mingucci