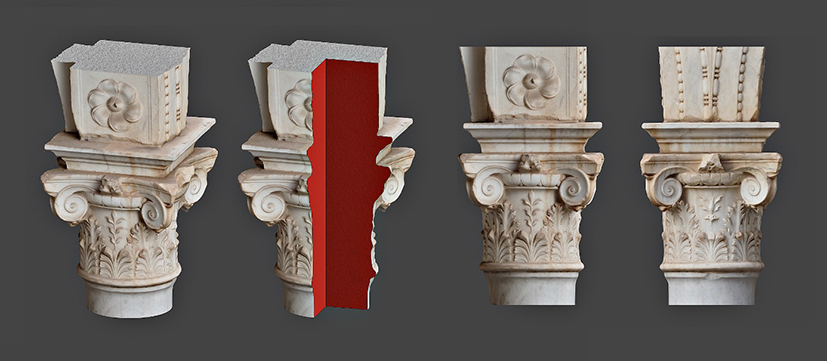 Using drones under 250 gr for documenting the architectural heritage
Abstract
The emergence of drones in recent years has revolutionized the field of photogrammetry due to the advantages that their use entails. opening a new variety of possibilities, as the use of close-range aerial photogrammetry. Therefore, the main objective of this contribution is to analyse the legal limits for this kind of drones under 250 g and to determine the quality of the results that can be obtained when they are used for graphic surveying.
The methodology consisted in carrying out the survey of a renaissance courtyard, which is known as the Patio del Embajador Vich, one of the most relevant spaces in the city of Valencia that is currently integrated inside of the Museo de Bellas Artes de Valencia. The courtyard constitutes an excellent test bench due to the complexity of its sculptural forms and its combination with the large stucco panels. The photogrammetric survey was carried out with a DJI mini 2 drone, weighting less than 250 gr, equipped with a 1/2.3" CMOS sensor with a resolution of 12 Mp. In addition, a survey with a laser scanner Leica RTC 360 was also carried out to compare both of them and to estimate the precision of the photogrammetric survey.
Two types of photogrammetric surveys were carried out, the first of which was taken at a medium distance to achieve the restitution of part of the general volume, while the second consisted of a very close-range survey of one of the original capitals, in order to restore a more detailed model. The conclusions of this study, that arises from the comparison and study of the models obtained, will reveal the convenience of using this kind of drones and its application to architectural heritage surveying.
DOI: https://doi.org/10.20365/disegnarecon.29.2022.1
Keywords
Drone; photogrammetry; survey
Refbacks
There are currently no refbacks.
Copyright (c) 2022 Pablo Rodriguez-Navarro, Pedro Manuel Cabezos-Bernal, Teresa Gil-Piqueras, Manuel Gimenez-Ribera
DISEGNARECON
ISSN 1828 5961
Registration at L'Aquila Law Court no 3/15 on 29th June, 2015.
Indexed in SCOPUS. Diamond Open Access. All papers are subjected to double blind peer review system by qualified reviewers.
Journal founded by Roberto Mingucci