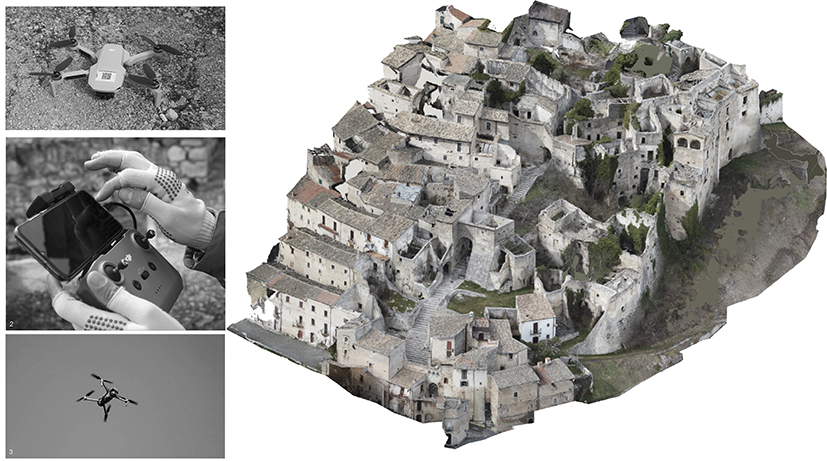 Multi-sensors acquisition for digital documentation. Application to a damaged area of Navelli village
Abstract
Digital technologies draw continuously novel opportunities and potentialities in the area of the documentation of architectural and cultural heritage and deliver to the research community questions and problems associated to the different and sometimes complementary applications, which range from protection and conservation to fruition and valorisation. This is particularly true when valuable assets are located in fragile and damaged contexts, due to particular morphological and typological conditions. The use of fast and efficient surveying techniques is often the optimal solution to meet these requirements, as these techniques can combine the needs for documenting complex heritage with those for protecting and safeguarding operators. In particular settings, the results of rapid acquisitions made by remotely piloted vehicles or mobile technologies suffer due to inhomogeneous level of information and therefore, the integration of data recorded by different sensors must be well designed and carried out.
The paper reports some results of the integrated survey of a complex site, located in the urban centre of Navelli, and characterized by several dwellings now ruined and compromised by the 2009 earthquake.
The procedure adopted within the integrated survey of case study moves from the analysis of the methodologies employed in the scientific literature in the context of multi-scale and multi-sensors data acquisition and their integration, aligning with them. The survey was carried out via a mobile laser scanner based on SLAM technology and a Dij Mini2 drone for aerial photogrammetry. The integration of the two technologies was optimized by the placement of control points acquired with a GNSS-based coordinate system, which permitted to adequately document the investigated area.
DOI: https://doi.org/10.20365/disegnarecon.29.2022.4
Keywords
UAV survey; SLAM technology; Integrated digital survey; Data management; Expeditious survey
Refbacks
There are currently no refbacks.
Copyright (c) 2022 Adriana Marra, Francesca Savini, Gianluca Ciuca, Marco Giallonardo, Giovanni Fabbrocino, Ilaria Trizio
DISEGNARECON
ISSN 1828 5961
Registration at L'Aquila Law Court no 3/15 on 29th June, 2015.
Indexed in SCOPUS. Diamond Open Access. All papers are subjected to double blind peer review system by qualified reviewers.
Journal founded by Roberto Mingucci