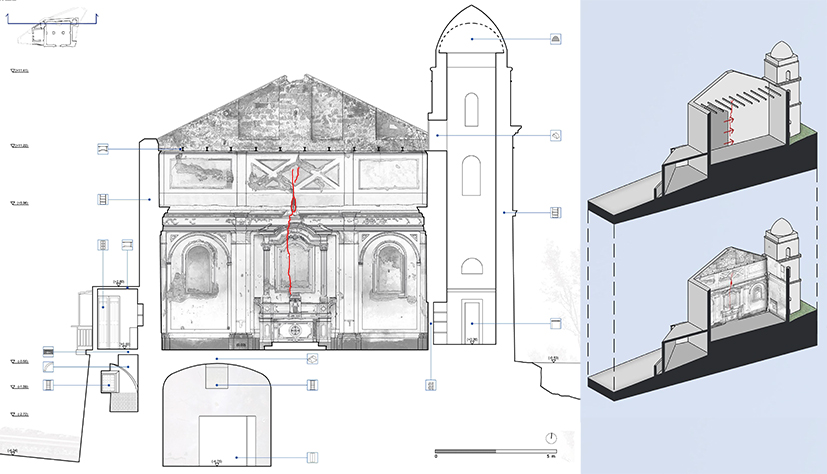 Drones for survey in the field of restoration: a multidisciplinary approach to the preservation of cultural heritage
Abstract
The use of drones in the field of cultural heritage is increasing thanks to the possibility offered by these tools to acquire, information on those parts of the buildings that are difficult or impossible to access, so they can be a valid tool to support the knowledge of historical heritage.
The paper presents the results of a multidisciplinary research work conducted on a case study located in Fisciano, Italy regarding the abandoned "Madonna del Fieno" chapel. Built around the fourteenth century, it has undergone several extensions, restorations and transformations. Currently it is in a generalized state of decay as the complete absence of the roof has exposed the environments to atmospheric agents with the consequent occurrence of related decay phenomena.
The study started from the integrated digital survey of the Church that involved the joint use of laser-scanning and aerial and terrestrial photogrammetry. The use of UAVs was essential to obtain a complete and effective survey of the building.
Using integrated three-dimensional survey techniques, two-dimensional graphics were obtained (floor plans of the area, plans, sections, elevations and orthophotos), thus updating the existing graphic documentation of the site. This documentation has constituted an important and essential tool to support the understanding of the complex with a great impact in the process of "interdisciplinary" analysis and interpretation of the building aimed at both knowledge and design.
DOI: https://doi.org/10.20365/disegnarecon.29.2022.14
Keywords
Conservation; documentation; material survey; church; photogrammetry
Refbacks
There are currently no refbacks.
Copyright (c) 2022 Emanuela De Feo, Elide Nastri
DISEGNARECON
ISSN 1828 5961
Registration at L'Aquila Law Court no 3/15 on 29th June, 2015.
Indexed in SCOPUS. Diamond Open Access. All papers are subjected to double blind peer review system by qualified reviewers.
Journal founded by Roberto Mingucci