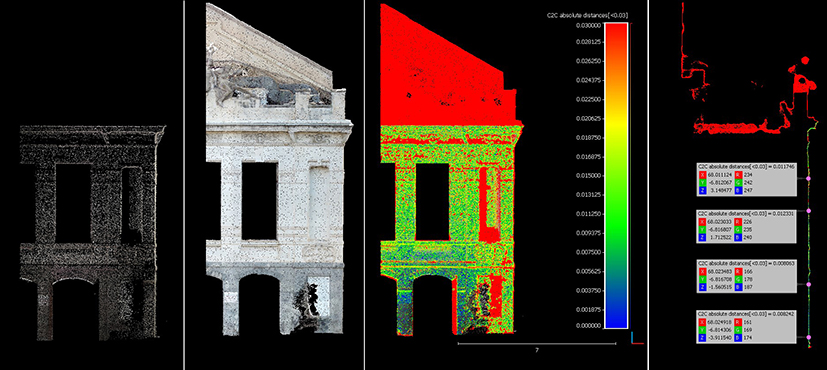 TLS e UAS 3D data integration for the knowledge and representation of a mid-18th century architecture: the Teatro Massimo Bellini in Adrano (CT)
Abstract
This study, conducted on the Teatro Massimo Bellini in Adrano (CT), is part of a wider research aimed at the knowledge, valorization, and fruition of the theatrical and cinematographic heritage of Catania and its municipalities, through digital surveying techniques. This architectural heritage represents a powerful bond to the past for the city and its inhabitants. However, its typological connotations are often neglected or changed. Therefore, understanding these architectures is an essential step in their protection.
The Teatro Massimo Bellini is located within a historicized urban space near the historic municipal garden, behind the ancient axis of Garibaldi Street, where the Mother Church and the Norman castle stand.
Previous investigations conducted on the theater are purely historical-literary. No archival documents have currently been found to testify about its original stylistic formal and geometric characteristics, especially of the spaces that have been rearranged over time.
Due to its typological and geometrical characteristics, we decided to proceed through an integrated survey, which could provide the necessary data for the graphic reconstruction of the building, ranging from an urban scale to a detailed scale.
The presented study aims to experiment and integrate LIDAR (TLS) and SfM techniques (UAS) to obtain a three-dimensional data model useful to document the entire spatiality of the opera and its urban context. Indeed, the integration between terrestrial laser scanning (TLS) and Unmanned Aerial Vehicle (UAV) digital photogrammetry techniques is tested and verified.
DOI: https://doi.org/10.20365/disegnarecon.29.2022.6
Keywords
UAS; TLS; Digital Survey; Aerial Photogrammetry; Theatre Architecture
Refbacks
There are currently no refbacks.
Copyright (c) 2022 Graziana D'Agostino, Raissa Garozzo, Marco Bertolone, Mariateresa Galizia
DISEGNARECON
ISSN 1828 5961
Registration at L'Aquila Law Court no 3/15 on 29th June, 2015.
Indexed in SCOPUS. Diamond Open Access. All papers are subjected to double blind peer review system by qualified reviewers.
Journal founded by Roberto Mingucci