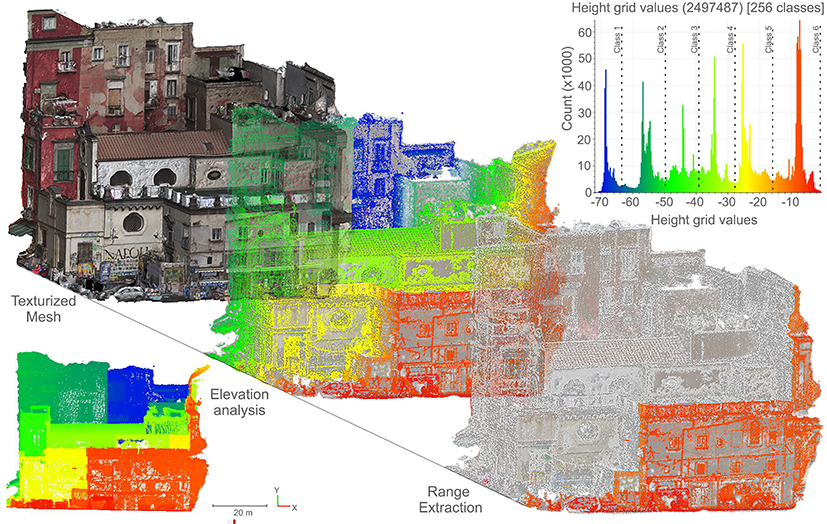 SURVEYS AND NEW VISIONS OF THE ANCIENT CENTRE OF NAPLES
Abstract
Among the ongoing research on the ancient center of Naples, this paper offers an example of the potential of the disciplines of survey and representation that allow to critically manage the role of architecture and urban space as a memory device in the processes of vision and recognition of the image of the city.
The main goal of the research, of which a fragment is proposed here, is to recognize the configurative distribution of urban variables, through a discretization approach and multiscalar analysis that, exploiting the potential of a territorial information system, combines cartographic data, images, historical sources and new surveys and representations/visualizations derived from data segmentation and classification approaches.
The analysis and documentation activities have been applied to significant elements of the urban structure, such as the intersections of some cardo with the lower decumanus identified by Via Benedetto Croce - via San Biagio dei Librai - via Forcella, particular elements both for shapes and for dimensions. The careful use of UAV allowed the survey of the facades of buildings overlooking the narrow alleys of the ancient city that, in most cases, would be results not surveyed with laser scanning or traditional survey techniques. The successive phases of photomodelling and infographic 2D/3D restituitions have allowed to highlight, through a different approach to the reading of reality, peculiarities and volumetric proportions difficult to perceive by the pedestrian, intent to follow the narrow streets, almost sucked out of them. The post-processing phases, through the experimentation of semantic segmentation algorithms, made it possible to extract the elements and information layers of the image of the stratified city, as well as for the elaboration of drawings on an architectural and detailed scale.
DOI: https://doi.org/10.20365/disegnarecon.29.2022.5
Keywords
Cultural Heritage; Neapolis; UAV photogrammetry; image-based modeling; semantic segmentation
Refbacks
There are currently no refbacks.
Copyright (c) 2022 Saverio D'Auria, Maria Ines Pascariello, Giuseppe Antuono
DISEGNARECON
ISSN 1828 5961
Registration at L'Aquila Law Court no 3/15 on 29th June, 2015.
Indexed in SCOPUS. Diamond Open Access. All papers are subjected to double blind peer review system by qualified reviewers.
Journal founded by Roberto Mingucci