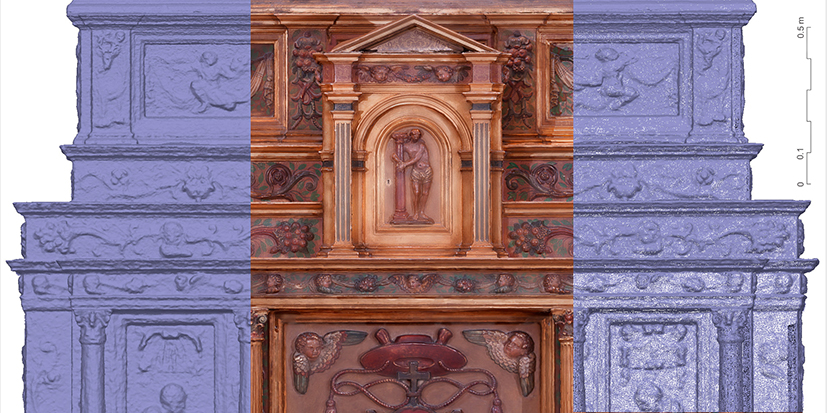 A scalar approximation to the survey of the architectural, artistic and cultural heritage of the University of Alcalá (Madrid, Spain)
Abstract
This work presents part of the experience accumulated by the research team of which the authors are members in data collection and information management for the representation of architectural and artistic heritage. To do so, we will analyze the results according to the characteristics of the elements to be studied, which we shall classify according to their scale, location, and nature. In this sense, we propose three working approaches: the L scale, linked to exterior urban spaces, the M scale, for buildings and their interiors, and the S scale, for movable objects and sculptures. Likewise, we address an aspect that is not often dealt with in scientific publications, such as the importance of the graphic planning of tasks and timings in order to make campaigns more efficient. In addition, we performed a critical analysis of the workflows prioritizing the characteristics of the object and the physical constraints that researchers in this field must overcome.
As a case study, we shall use the Chapel of San Ildefonso, the foundational space of the University of Alcalá (Madrid), declared a World Heritage Site by UNESCO. The heritage qualities of this space allow us to test and exemplify the work process according to the aforementioned scales of approximation. That is to say, the facade as an example of urban scale (L), the wooden coffered ceiling as the main element of the building´s interior (M) and the tomb of Cardinal Cisneros and the adjacent altarpiece as an example of movable scale (S). In short, the contribution is a reference for the effective planning and execution of the survey process, as well as for the processing of the models discussed.
DOI: https://doi.org/10.20365/disegnarecon.30.2023.5
Keywords
Spanish renaissance; high definition survey; façade; coffered ceiling; sculpture
Refbacks
There are currently no refbacks.
Copyright (c) 2023 Nicolas Gutierrez-Perez, Manuel De-Miguel-Sanchez
DISEGNARECON
ISSN 1828 5961
Registration at L'Aquila Law Court no 3/15 on 29th June, 2015.
Indexed in SCOPUS. Diamond Open Access. All papers are subjected to double blind peer review system by qualified reviewers.
Journal founded by Roberto Mingucci