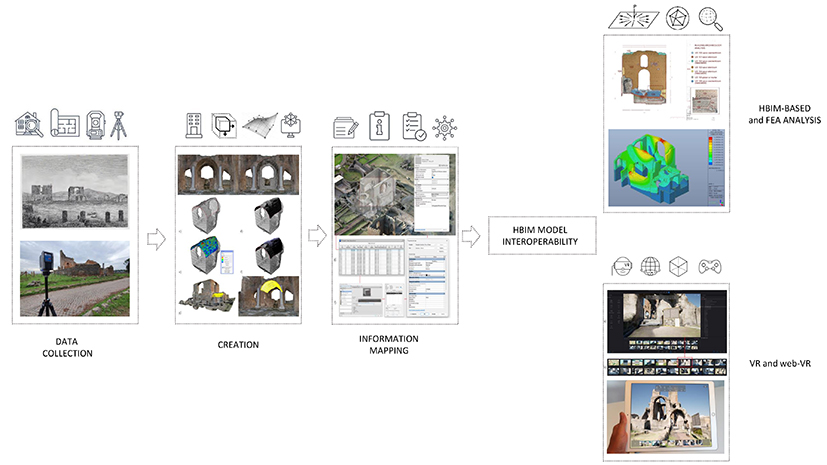 Enhancing archaeological knowledge dissemination: the pivotal role of digital representation and BIM interoperability for preservation, FEA, and XR of Villa dei Quintili in Rome
Abstract
This research delves into the profound significance of the Science of Representation, demonstrating its pivotal role in crafting semantic and interoperable analysis. The adept application of these 'mediums' could represent a primary shift for future generations in how information is conceptualized, interpreted, represented, and communicated, ultimately fostering a deeper level of understanding and collaboration among professionals in the field. In this context, the convergence of digital representation, knowledge-driven semantic refinement, and techniques for intricate model conversion could assume a foundational role. Given these paramount considerations, the study emphasizes the urgency of establishing interoperable procedures and cultivating a comprehensive understanding of digital representation as a crucial informational medium.
The results served as vessels for disseminating archaeological knowledge and as powerful tools for dissecting the structural intricacies of ancient environments. To achieve this, a highly specialized cognitive process was required to elucidate both the tangible and intangible elements within the ontological framework. The introduction of the interoperable approach at the archaeological site of Villa dei Quintili in Rome served as a prime example of the critical function of digital models able to interpret, disseminate, and preserve our cultural heritage accurately. It proved instrumental, both theoretically and practically, in transferring geometries and information for diverse analytical purposes, significantly enhancing their effectiveness through a thoughtfully selected range of exchange formats for preservation and structural analysis. Finally, the study introduces a methodology for translating digital models into advanced mediums, including extended reality (XR), pushing the boundaries of heritage preservation in the digital age.
DOI: https://doi.org/10.20365/disegnarecon.30.2023.25
Keywords
Heritage Representation, BIM Interoperability, Building archaeology, Finite Element Analysis, Virtual reality
Refbacks
There are currently no refbacks.
Copyright (c) 2023 Fabrizio Banfi,Francesca Romana Paolillo, Clara Spallino, Alberto Vislovic, Libbio Antonelli
DISEGNARECON
ISSN 1828 5961
Registration at L'Aquila Law Court no 3/15 on 29th June, 2015.
Indexed in SCOPUS. Diamond Open Access. All papers are subjected to double blind peer review system by qualified reviewers.
Journal founded by Roberto Mingucci