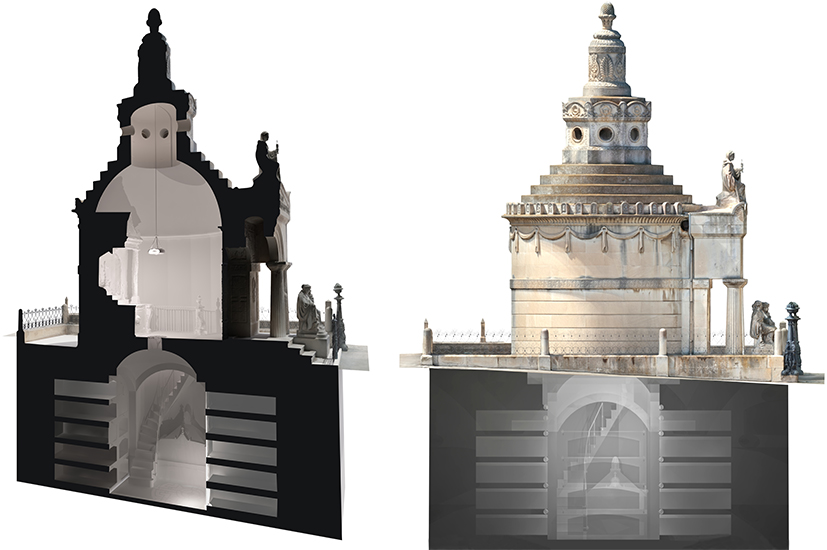 The Hybridization of graphic survey techniques in funerary architecture
Abstract
Funerary architecture often presents a series of specificities that makes it necessary to combine different techniques for its adequate graphic restitution. These conditioning factors are usually present both in the exterior, such as nearby trees and metalwork elements, and in the interior, due to the arrangement of small objects and furniture as well as poor lighting in the rooms.
This paper focuses on the methodology followed for the graphic restitution of the Pedreño y Deu family pantheon in the main cemetery of Cartagena (Spain). The pantheon, built in 1875, consists of a circular chapel on the ground floor and a crypt below ground level. At the start of the survey, the building, protected by municipal planning, was in a state of advanced deterioration.
The techniques used for the survey of each part will be described, as well as the procedure followed to assemble them into a single model. In this work, we have been able to verify that hybridization in survey techniques is one of the best options to represent architectural heritage in case studies where there are situations of very different natures.
DOI: https://doi.org/10.20365/disegnarecon.30.2023.15
Keywords
Graphic restitution; pantheon; photogrammetry; rendering; cemetery
Refbacks
There are currently no refbacks.
Copyright (c) 2023 María José Muñoz-Mora, David Navarro-Moreno, Pedro Jiménez-Vicario, Manuel Alejandro Ródenas-López, Jose Gabriel Gómez-Carrasco
DISEGNARECON
ISSN 1828 5961
Registration at L'Aquila Law Court no 3/15 on 29th June, 2015.
Indexed in SCOPUS. Diamond Open Access. All papers are subjected to double blind peer review system by qualified reviewers.
Journal founded by Roberto Mingucci