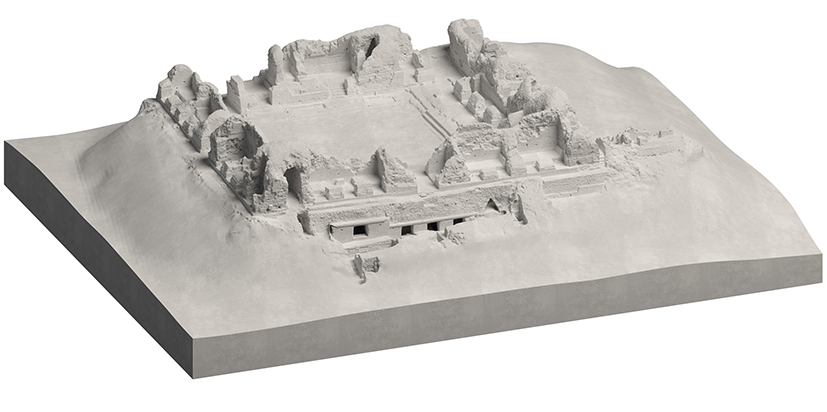 Documentation of the 6J2 sub2 building in the acropolis of la Blanca (Guatemala): methodologies, workflow and results
Abstract
Superposition of buildings from different periods is a distinctive feature of Maya architecture. The Maya often built new structures directly over the pre-existing ones, using volume to achieve larger buildings. This "building upon the built practice" permitted many ancient structures to be preserved inside the volume of the superimposed ones. The documentation of these former structures is an intricate challenging process. Digital survey technologies can give a significant contribution providing highly accurate records.
In order to enhance the importance of digitation of Maya architecture, we present the results of the digital documentation of the Building 6J2-Sub2, an earlier structure included in the Acropolis of La Blanca (Peten, Guatemala), and we detail the specific methodology and workflow developed for it.
We documented the building 6J2-Sub2 during the excavation from 2015 to 2019, with a laser scan daily recording system that was progressively improved, obtaining a digital database of the excavation that contains all the architectural remains discovered. This survey was complemented with photogrammetric data collections. As a result, we obtained an accurate survey of the building 6J2-Sub2, a 3D reality-based model of the Acropolis with the earlier building in context, and a complete documentation of all the elements necessarily dismantled to continue the excavation.
Documentation with digital survey techniques of the 6J2-Sub2 building was a pioneering experience in the research of Maya earlier buildings. Specific workflows and methodologies to record and study these structures were developed for the first time.
DOI: https://doi.org/10.20365/disegnarecon.30.2023.18
Keywords
6J2-Sub2 Building; Maya architecture; "Building upon the built"; Architectural Digital Database; Digital Survey.
Refbacks
There are currently no refbacks.
Copyright (c) 2023 Riccardo Montuori, Gaspar Muñoz Cosme
DISEGNARECON
ISSN 1828 5961
Registration at L'Aquila Law Court no 3/15 on 29th June, 2015.
Indexed in SCOPUS. Diamond Open Access. All papers are subjected to double blind peer review system by qualified reviewers.
Journal founded by Roberto Mingucci