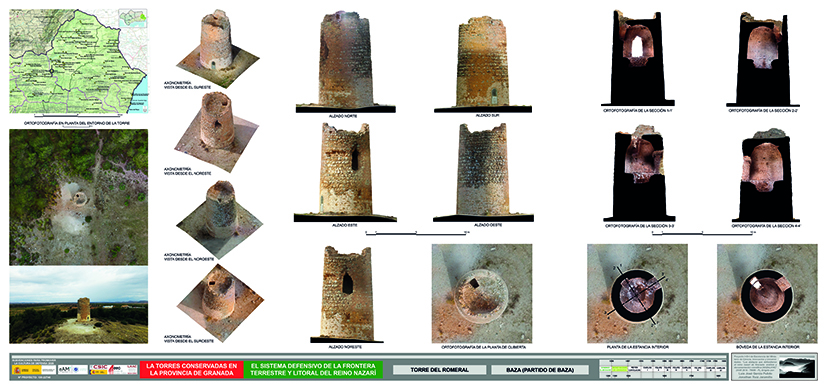 Disappeared medieval watchtowers in Granada (Spain). Workflow and standards for the survey of a vanished architectural heritage
Abstract
Among all the Spanish regions, the province of Granada stands out for the large number of isolated towers of which there are still remains. More than 150 are of medieval origin and preserved to a greater or lesser degree. This is due to the fact that Granada was the core of the Nasrid kingdom, the last surviving Andalusian territory in the southeast of the Iberian Peninsula. It had more than 400 km of land border with the kingdom of Castile through the Penibaetic System and another 400 km of Mediterranean coastline. This kingdom, whose centre of power was the Alhambra in Granada, came to occupy approximately 2,949,373 ha after the Pact of Jaén, the agreement signed in 1246 between Ferdinand III of Castile and the first Nasrid king, Muḥammad I ibn Nasr, which established the border between the two kingdoms. The kingdom of Granada was maintained with few modifications over the next two and a half centuries, until the War of Granada, which caused it to collapse between 1482 and 1491. Many of these towers were reused, remade or built in the Nasrid period, but, after the Christian process of conquest, many of the towers in the interior were rendered unusable or totally or partially destroyed. This work develops the methodology of the workflow that has been followed to detect the location of many other nodes of this dense network based on the analysis of toponymy. The historical accounts show that there were many more watchtowers to survey this kingdom than the known ones.
DOI: https://doi.org/10.20365/disegnarecon.30.2023.19
Keywords
Defensive towers; Toponymical Analysis, Photogrammetric acquisition procedures; UAS applications in different environments; environmental conservation.
Refbacks
There are currently no refbacks.
Copyright (c) 2023 Jonathan Ruiz-Jaramillo, Luis José García-Pulido, Carmen Muñoz-Gonzalez, María Dolores Joyanes-Díaz, Inmaculada Pitalúa-Barbero
DISEGNARECON
ISSN 1828 5961
Registration at L'Aquila Law Court no 3/15 on 29th June, 2015.
Indexed in SCOPUS. Diamond Open Access. All papers are subjected to double blind peer review system by qualified reviewers.
Journal founded by Roberto Mingucci