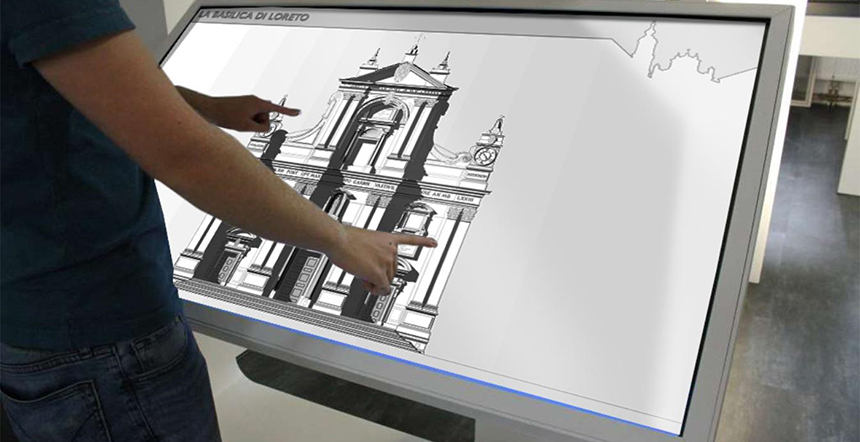 Basilica in a Box. Proposal for a Contemporary Wunderkammer
Abstract
This article addresses the opportunities offered by technological innovations to increase accessibility to the knowledge of cultural goods. In particular, an experience to reshape a wunderkammer of the Basilica of Loreto in a multimedia key is presented. Using the potential of Augmented Reality/Virtuality and interactive media, the prototype for this 'table of wonders' represents an attempt to modify a model based on a 'passive' informational experience. In fact, the technologies implemented allow for interaction with the information related to the cultural good, activating new cognitive processes based mainly on an active, exploratory experience, thereby offering amplified, multi-sensory use.
Keywords
Cultural Heritage; Wunderkammer; Mixed Reality; Visual Storytelling
References
Antinucci, F. (2007). Musei virtuali. Come non fare innovazione tecnologica. Bari, Italia: Laterza.
Antinucci, F. (2014). Comunicare nel museo, Bari, Italia: Laterza.
Bonacini, E. (2011). Nuove tecnologie per la fruizione e valorizzazione del patrimonio culturale. Roma, Italia: Aracne.
Cappellini, V. (2001). La realtà virtuale per i Beni Culturali. Bologna, Italia: Pitagora.
Compagnucci, M., & Grimaldi, F. (1978). Antiche Vedute di Loreto. Loreto, Italia: Cassa di risparmio Loreto.
Ippoliti, E., & Meschini, A. (2011). La 'scena 3D' per la valorizzazione del patrimonio culturale architettonico e urbano: piazza Arringo ad Ascoli Piceno. In Atti del IX Forum Internazionale Le vie dei Mercanti S.A.V.E. Heritage (vol. unico, pp. 1-10). Napoli, Italia: La scuola di Pitagora.
Ippoliti, E., Meschini, A., Moscati, A., & Rossi, D. (2012). Interfacce e tecnologie visual 3D per conoscere, condividere e valorizzare il patrimonio culturale. DISEGNARECON, 5(10), 45-54. DOI 10.6092/issn.1828-5961/3294.
Irace, F., Ciagà, G., Lupo, E., & Trocchianesi, R. (a cura di). (2013). Design & Cultural Heritage. Milano, Italia: Electa.
Lugli, A. (2005). Naturalia et mirabilia: il collezionismo enciclopedico nelle Wunderkammern in Europa. Milano, Italia: Mazzotta.
Meschini, A. (2011). Tecnologie digitali e comunicazione dei beni culturali. Stato dell'arte e prospettive di sviluppo. DISEGNARECON, 4(8), 14-24. DOI 10.6092/issn.1828-5961/2565.
Parry, R. (edited by). (2009). Museums in a Digital Age, London and New York, United Kingdom: Routledge.
Studio Azzurro (2011). Musei di narrazione. Percorsi interattivi e affreschi multimediali, Cinisello Balsamo, Italia: Silvana Editoriale.
Refbacks
There are currently no refbacks.
Copyright (c) 2017
DISEGNARECON
ISSN 1828 5961
Registration at L'Aquila Law Court no 3/15 on 29th June, 2015.
Indexed in SCOPUS. Diamond Open Access. All papers are subjected to double blind peer review system by qualified reviewers.
Journal founded by Roberto Mingucci