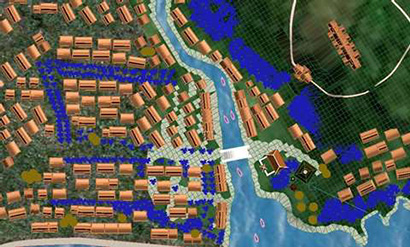 From Centre to Centrifugal Dispersion of the Maritime 'Melayu'
Abstract
This paper attempts to reconstruct the famed city of Melaka at its height in the 15th and 16th centuries, to its subsequent dispersion in the 17th to 19th centuries. Melaka's cultural-political influences and impact as a center of the common Melayu based culture and civilisation can be gauged fromits original center in Melaka city as its initial axis of power; which dispersed into surrounding regions. Through visual, cartographic and lithographic sources, the city – before 1511 - is reconstructed and its architecture and core areas are modelled. Subsequently, after its fall, its influences was traced as centrifugal forces, which manifest in terms of cultural and stylistic forms that expanded beyond the realm of its initial center and limits of its port city. As its center of power reconsolidated into surrounding regions; its influence goes beyond the compact Melayu city and re-consolidated into a transnational regional and cultural powerbase. The paper combines both historical and modelling methods to demonstrate the essentially 'Melayu' or Malay urban-architectural form of the center, and its survival in terms of a socio-cultural dominion rather than physical city-form. It remained a Malay-based yet multilcultural polity which survived despite changes in its center of power. Its centrifugal dispersion is represented by reverberations of its architectural stylistic forms in surrounding regions and its centripetal influence was its cultural force that can still be seen throughout centuries in the sketches, paintings and depictions of urban life, landscape and architecture of the 17th to the 19 th centuries in the South East Asian archipelago region. The paper reflects how forms of architecture, landscape and urban design are traces of a common culture and civilisation that stretches beyond present national borders and which reflect and resonates with the nature of a maritime-based culture which is reflective of a transnational, multinational and multicultural nature of a regionally-based nation-state in medieval times.
Keywords
South east Asian city; Maritime landscape; Historical reconstruction; Port city; Tropical urbanisme
Refbacks
There are currently no refbacks.
Copyright (c) 2019 Puteri Shireen Jahn Kassim, Illyani Ibrahim, Kamariah Kamaruddin
DISEGNARECON
ISSN 1828 5961
Registration at L'Aquila Law Court no 3/15 on 29th June, 2015.
Indexed in SCOPUS. Diamond Open Access. All papers are subjected to double blind peer review system by qualified reviewers.
Journal founded by Roberto Mingucci