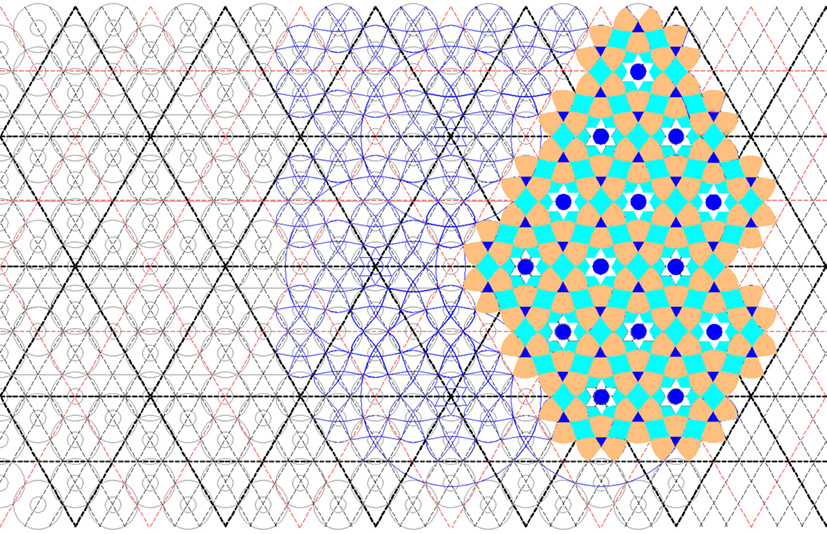 Graphic analysis of geometric tiles patterns. The complex of Shaykh 'Abd Al-Samad at Natanz
Abstract
The complex of 'Abd al-Samid at Natanz, (end of the first decade of the 14th century) includes several buildings: a four-iwan mosque, an octagonal sanctuary, a minaret, and a mosque from the 1930s fronted by a fourteenth-century portal (pīshṭāq). The portal, the only remains of a khanqah, occupies the western end of the southern façade. It takes the form of an iwan, covered in a rich variety of patterns of colourful glazed tile and unglazed carved terracotta. It is adorned by a majestic muqarnas vault of six rows ending at the top with a starry motif. Each element that constitutes the muqarnas is also covered with tiles of different patterns that alternate, both in the main and in the connecting elements. The patterns are made from the combination of turquoise, cobalto, white stucco and terracotta tiles.
Architectural tilework developed in Iran from about 1100 and was used to beautify the structures, ensuring a visual harmony and balance to details and to the whole.
Aim of the paper is to study and catalog the tiles pattern of the monumental portal and to understand what rule underlies their position on the rows and elements of the muqarnas.
The creation of geometric mosaic motifs is based on rigorous geometric constructions. The patterns are mainly based on the geometry of the hexagon, the 6-pointed star polygon, and the octagon.
The geometric analysis of each pattern was conducted to understand the origins of geometry and the comparison with traditional geometric motifs.
This paper is part of the studies on Islamic geometries and patterns, with particular reference to Iranian architecture.
DOI: https://doi.org/10.20365/disegnarecon.25.2020.17
Keywords
Graphic analyis; Catalogation; Tilework; Islamic geometries; Natanz
Refbacks
There are currently no refbacks.
Copyright (c) 2020 Vincenza Garofalo
DISEGNARECON
ISSN 1828 5961
Registration at L'Aquila Law Court no 3/15 on 29th June, 2015.
Indexed in SCOPUS. Diamond Open Access. All papers are subjected to double blind peer review system by qualified reviewers.
Journal founded by Roberto Mingucci