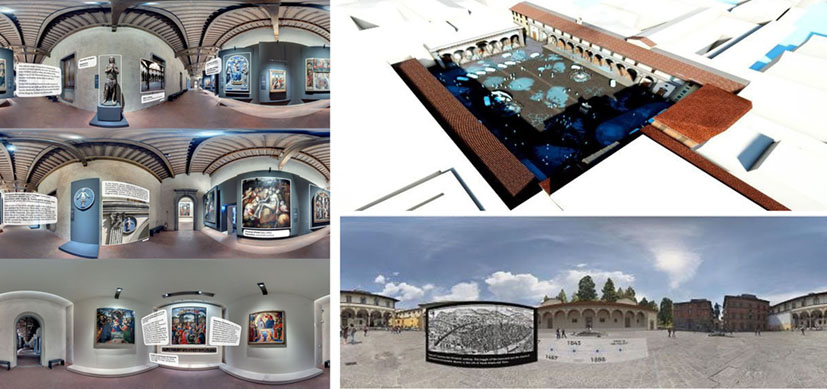 From semantic-aware digital models to Augmented Reality applications for Architectural Heritage conservation and restoration
Abstract
The paper presents the integration of Augmented Reality (AR) and Mixed Reality (MR) tools for the built Heritage management and control, both remote and on-site, and real time interaction, starting from a preliminary set of experimentation carried out for knowledge and tourism purposes.
Within the framework of these experimentations, specific data inventories are related to the IFC model, and all these data are collected on a cloud-based platform, allowing the "dialogue" among platform and applications. Therefore, BIM integration is the first step of the procedure, considering a workflow where data capturing, digital documentation, and data modeling and aggregation are the entry level to manage applications able to give an added value in gaining the greatest technical benefit from digitization. Mapping the main features and the state of conservation is the second step, including geometric features, historical knowledge, documents and pictures related to materials, diagnostic analysis, etc.
Starting from AR applications developed on several case studies, including historical buildings, museums and a church, aimed at an immersive on-site navigation thanks to a set of additional information related to the digital model, experimentations oriented to technical uses are presented.
An extension of AR and MR applications for the analysis and interpretation of architectural heritage and technical uses can be an effective support in restoration, conservation and maintenance of historic buildings, by enhancing the real world through virtual objects and creating a new mixed reality environment for technical users.
DOI: https://doi.org/10.20365/disegnarecon.26.2021.17
Keywords
Architectural Heritage; Parametric modeling; AR/MR; Knowledge; Interpretation
Refbacks
There are currently no refbacks.
Copyright (c) 2021 Federica Maietti, Marco Medici, Federico Ferrari
DISEGNARECON
ISSN 1828 5961
Registration at L'Aquila Law Court no 3/15 on 29th June, 2015.
Indexed in SCOPUS. Diamond Open Access. All papers are subjected to double blind peer review system by qualified reviewers.
Journal founded by Roberto Mingucci