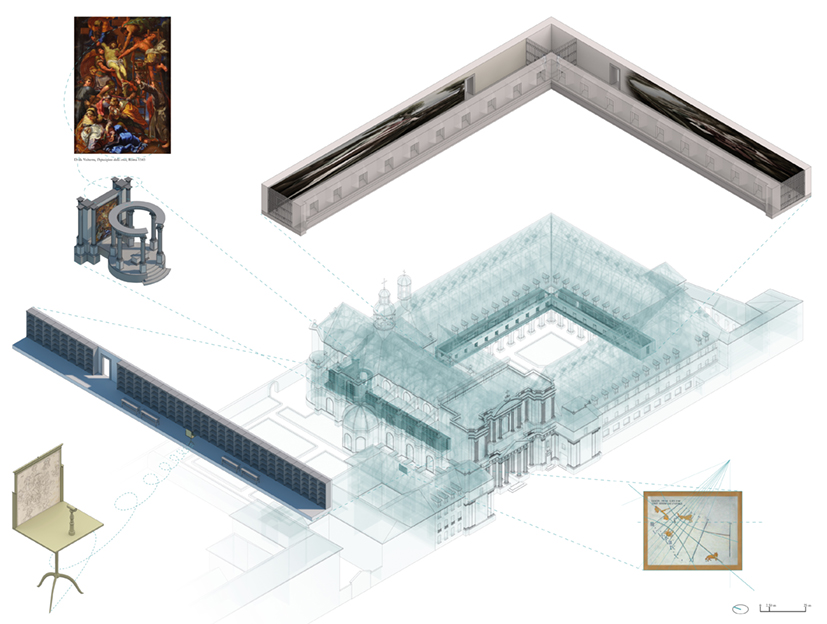 The digital reconstruction of the Minims' Convent in Place Royale and its optical-perspective games
Abstract
The Parisian Convent of the Minims at Place Royale (today's Place des Vosges) has always attracted the curiosity of architectural historians and scholars of representation, having been almost completely destroyed between the end of the 19th century and the beginning of the 20th century. Its story begins in 1609, when the religious Order managed to buy 7500 square meters of former Hotel des Tournelles' land. Even if already in possession of other two Convents in the rural areas of Nigeon and Vincennes (fig. 1), the Minims aspired to have their own institutional headquarters in city center, to better spread their apostolic work and to expand their researches between art and science. Starting from the faint traces survived to the present day, an unprecedented digital reconstruction of the entire Convent have been attempted. The intersection of archival sources was laborious and not without exegetical risks implicit in the choices made to produce a model compatible with the material collected and with the urban limits identified in the historical layout of the city. The main focus of this work of anastylosis, however, was the reconstruction of the lost optical-perspective marvels there contained, praised for their virtuosity and technical-expressive mastery. These, depicting St. John the Evangelist and the Penitent Magdalene, were executed in the first half of the 17th century by Jean François Niceron, and completed by Emmanuel Maignan. This essay is dedicated to the reconstruction of these and other projective, catoptrical and astrolabic tour de forces, offering scholars an unprecedented and surprising journey into one of the most mysterious places of the baroque Paris.
DOI: https://doi.org/10.20365/disegnarecon.27.2021.1
Keywords
digital reconstruction; anamorphosis; history of representation
Refbacks
There are currently no refbacks.
Copyright (c) 2021 De Rosa, Bortot, D'Elia
DISEGNARECON
ISSN 1828 5961
Registration at L'Aquila Law Court no 3/15 on 29th June, 2015.
Indexed in SCOPUS. Diamond Open Access. All papers are subjected to double blind peer review system by qualified reviewers.
Journal founded by Roberto Mingucci