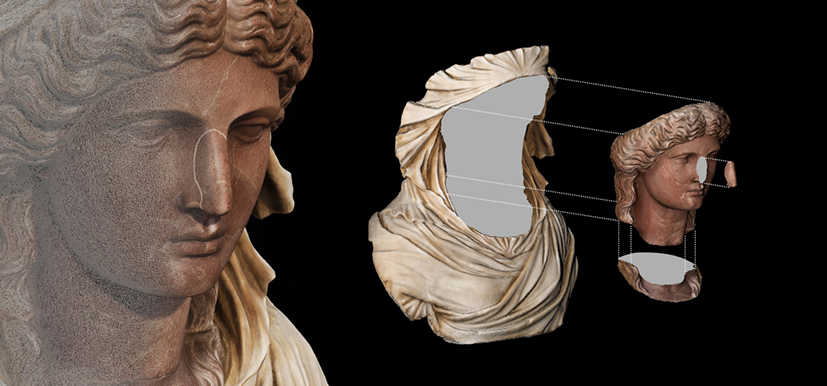 Digital identities. Technologies for the Conservation, Reconstruction and Fruition of the Sculptural Heritage.
Abstract
The following essay investigates the study of ancient statuary in close connection with the application of digital technologies that are involved from the indirect survey of anthropomorphic artefacts to the reading, interpretation and communication about the formal metamorphosis processes that have involved some valuable Greek and Roman models preserved at the National Archaeological Museum of Venice.
The research in itinere takes advantage of credible digital clones as a tool for critical interpretation, simulation, scientific dissemination and it also aims to provide a whole the information useful for precise and thoughtful future strategies of conservation and intervention.
The application of digital photogrammetry allows to restore the bodies free form, generating digital clones in which the use of mesh surfaces, mapped with high resolution textures, intervenes in a non-invasive way, to highlight the signs of breakage, the stratifications, the adaptations present on the rediscover fragment.
The digital support, is able to widen the field of art-historical investigation and to prefigure appropriate solutions of conservative or integrative restoration, facilitating a greater critical analysis of lost archetypes or 'surviving bodies' changed over time, but also their appreciation and promotion in the exhibition field through innovative displays that narrate the formal decompositions and exhibit physical replicas obtained through digitization and subsequent 3D printing.
DOI: https://doi.org/10.20365/disegnarecon.27.2021.12
Keywords
Statues; Digital Photogrammetry; 3D Modelling; Virtual Reconstruction; Cultural Heritage
Refbacks
There are currently no refbacks.
Copyright (c) 2021 Liva
DISEGNARECON
ISSN 1828 5961
Registration at L'Aquila Law Court no 3/15 on 29th June, 2015.
Indexed in SCOPUS. Diamond Open Access. All papers are subjected to double blind peer review system by qualified reviewers.
Journal founded by Roberto Mingucci