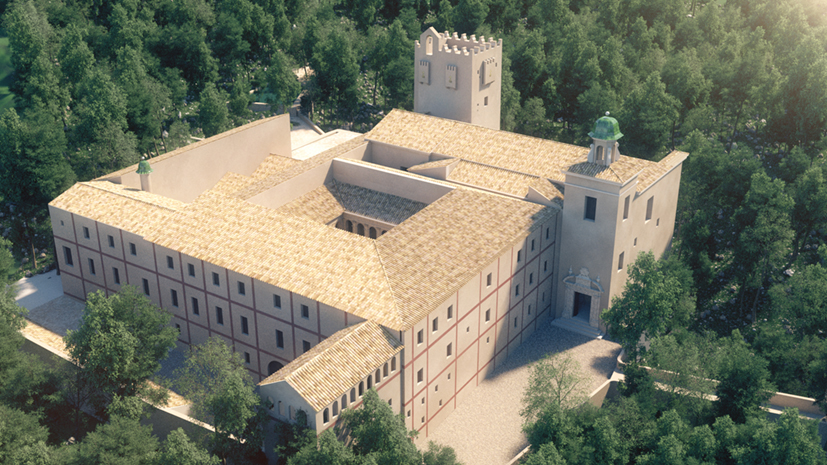 Virtual reconstruction of a disappeared monastery of Santa Maria de la Murta
Abstract
The representation of disappearing architectures is an important task for the recognition of our history. This article describes the process of digital reconstruction of the monastery of Santa María de la Murta, in Alzira, from the data obtained in the initial archaeological campaigns to the work of documentary research, graphic surveying and analysis of architectural remains. From this information, a video tour of the interior of the Church is produced, merging real images with the virtual reconstruction carried out.
The monastery is currently in a state of precariousness in which only a few walls of the church, the tower las Palomas and the starts of what were the walls of the cloister, exhumed in the first archaeological campaigns remain. The monastery is catalogued with a high level of architectural protection within the section of fortified religious monuments, being considered one of the founding monasteries of the Order of Saint Jerome (the Hieronymites)
Thanks to the constructive hypothesis embodied in the 3D model, progress has been made in the knowledge of the monastery, using the virtual model as a tool of interpretation, simulation and scientific dissemination. The recovery, although only virtual, restores some of the loss, and has allowed to re-enjoy the spatial, visual and acoustic sensations that could occur in the missing buildings reinforcing both the interest for the good and the affective bond of the population linked to it.
DOI: https://doi.org/10.20365/disegnarecon.27.2021.3
Keywords
Architectural heritage; cultural heritage; virtual reconstruction
Refbacks
There are currently no refbacks.
Copyright (c) 2021 Sender, Perelló
DISEGNARECON
ISSN 1828 5961
Registration at L'Aquila Law Court no 3/15 on 29th June, 2015.
Indexed in SCOPUS. Diamond Open Access. All papers are subjected to double blind peer review system by qualified reviewers.
Journal founded by Roberto Mingucci