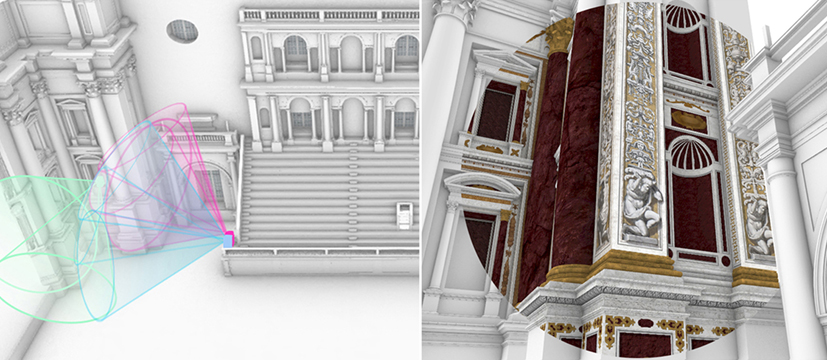 Digital technologies for the virtual reconstruction and projection of lost decorations: the case of the proscenium of the Farnese Theatre in Parma.
Abstract
Modern surveying technologies allow to obtain a digital copy of cultural assets. At the same time, digital technology allows to reconstruct virtually lost or destroyed architectures, as well as their decorative elements. To make this operation scientifically correct, it is fundamental to cross-reference and analyze as many sources as possible. Accurate documentation of the methodologies adopted is also essential to make the entire process clear, transparent and reliable.
This study is part of a wider research aimed at the documentation, valorization and dissemination of one of the most important 17th century theatres in Europe, the Farnese Theatre in Parma. The structure that we can see today is not the original one, but it is a 20th century reconstruction, since in 1944 the monument was almost completely destroyed in an Allied air raid.
The main purpose of this paper is to describe the complex process that allowed to reconstruct the original decorations that covered the proscenium of the theatre before its destruction. In particular, the interpretation of the collected data, the digital reconstruction of the decorations and their mapping on the 3D model will be illustrated. Finally, the possible use of the textured 3D model for projection the decorations on the wooden proscenium will also be briefly introduced.
DOI: https://doi.org/10.20365/disegnarecon.27.2021.5
Keywords
Farnese Theatre; Cultural Heritage; Virtual Reconstruction; Texture Mapping; Video Mapping
Refbacks
There are currently no refbacks.
Copyright (c) 2021 Zerbi, Mikolajewska
DISEGNARECON
ISSN 1828 5961
Registration at L'Aquila Law Court no 3/15 on 29th June, 2015.
Indexed in SCOPUS. Diamond Open Access. All papers are subjected to double blind peer review system by qualified reviewers.
Journal founded by Roberto Mingucci