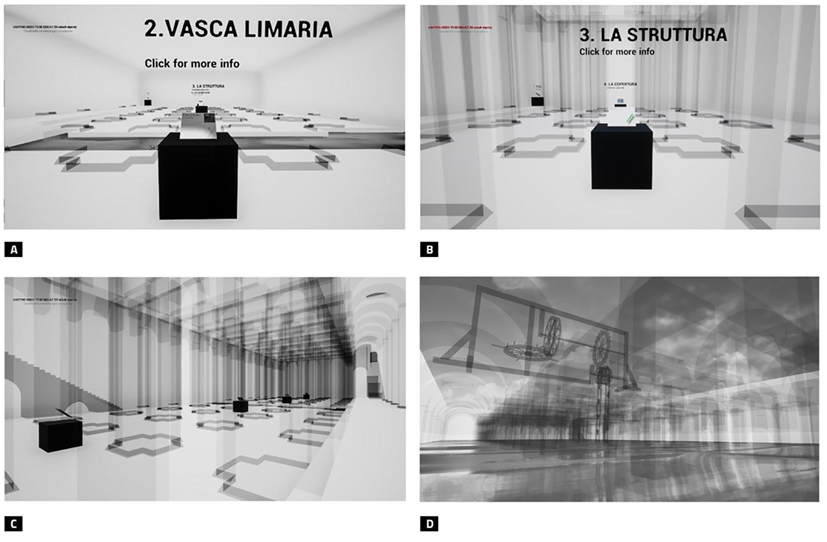 Material modelling for immaterial fruition. The virtual and augmented reality of the Aqua Augusta Campaniae and the Piscina Mirabilis
Abstract
Nowadays, the implementation of complementary virtual approaches to the in situ visit of archaeological sites is a preeminent topic in the field of the fruition of cultural heritage, even more today following the pandemic restrictions.
The aim of this work is thus to present a comprehensive framework for the fruition and the digital knowledge of the archaeological traces composing the Augustan Aqueduct, the Aqua Augusta Campaniae and its terminal reservoir, the Piscina Mirabilis in Bacoli (Italy). This model aims to be not only informative, but also as both a tool supporting learners and an archive gathering the information collected during the research activities. The traces composing the route of the Augustan Aqueduct are not completely accessible to public visitors, being the Roman infrastructure built almost entirely underground, across tuffaceous banks. 
Within the framework of this work, specific attention was thus paid to the communication language to be adopted for all the implemented digital tools. The vision was to conceive the framework as a complementary instrument of the physical visit, capable of providing exclusively the information that cannot be learnt directly in situ. The tool was based on the development of an applied game working in a virtual environment, as well as applications running in augmented reality (AR). The instrumental workflow was based on the interface of different commercial software and apps, such as Rhinoceros3D for 3D modelling, Augment for the augmented reality and Unreal Engine for game engines.
DOI: https://doi.org/10.20365/disegnarecon.27.2021.18
Keywords
Applied Games; Virtual Reality (VR); Augmented Reality (AR); Piscina Mirabilis; Aqua Augusta Campaniae.
Refbacks
There are currently no refbacks.
Copyright (c) 2021 D'Agostino, Merone, Pugliese
DISEGNARECON
ISSN 1828 5961
Registration at L'Aquila Law Court no 3/15 on 29th June, 2015.
Indexed in SCOPUS. Diamond Open Access. All papers are subjected to double blind peer review system by qualified reviewers.
Journal founded by Roberto Mingucci