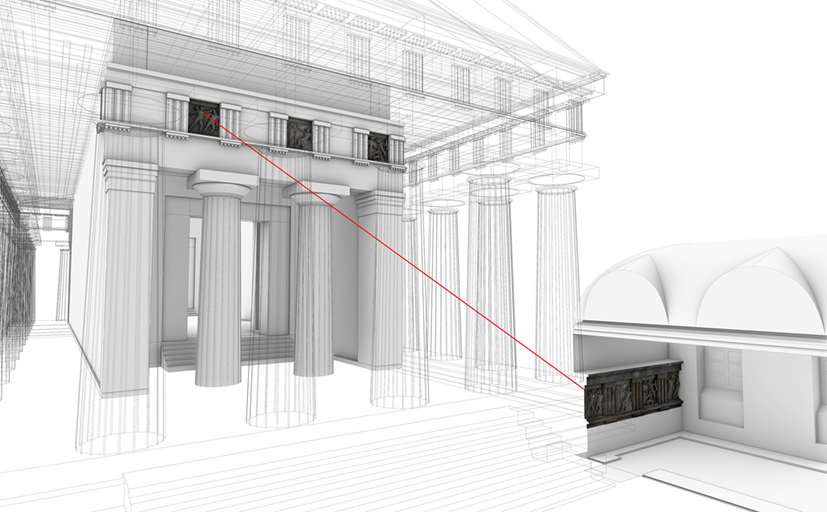 From the Museum to the site and backwards
Abstract
Digital Archaeological reconstructions usually aim at documenting the original position of blocks and architectural elements of the building, both the ones on site and those exhibited in museums.
Digital survey and representation provide the opportunity to place the fragments into the reconstruction model of the building, thus making the understanding of their shape and function much easier.
A relevant difference between past and present reconstructions is the representation of the context and the landscape. The context is a relevant feature of watercolor 'Restorations' of the Grand Tour; on the other hand, in digital reconstructions the landscape is often neglected or reduced to a 'background' neutral image.
The study evaluates the use of equirectangular images as a tool to reconnect the metopes of the Temple E of Selinunte, today in the Archaeological Museum Salinas of Palermo, with the temple itself and with the landscape of Selinunte. The backwards experiment aims at displaying the metopes attached to the ruins of the temple on site.
The position of metopes in the 3D model of the temple allowed to reconstruct the position that a camera should have on site, in front of the Temple, to match the point of view of the visitor inside the hall.
The alignment of equirectangular images allows, in the museum, the transition between the real view of the hall and the real view of the Temple and the landscape around, combined with the virtual view of the reconstruction with the metopes; on site, symmetrically, the transition between the real image of the temple and the virtual images of the metopes will show their original position.
DOI: https://doi.org/10.20365/disegnarecon.27.2021.16
Keywords
Virtual contextualization, Archaeological Museums, Selinunte, Temple E, Museum Salinas.
Refbacks
There are currently no refbacks.
Copyright (c) 2021 Agnello
DISEGNARECON
ISSN 1828 5961
Registration at L'Aquila Law Court no 3/15 on 29th June, 2015.
Indexed in SCOPUS. Diamond Open Access. All papers are subjected to double blind peer review system by qualified reviewers.
Journal founded by Roberto Mingucci