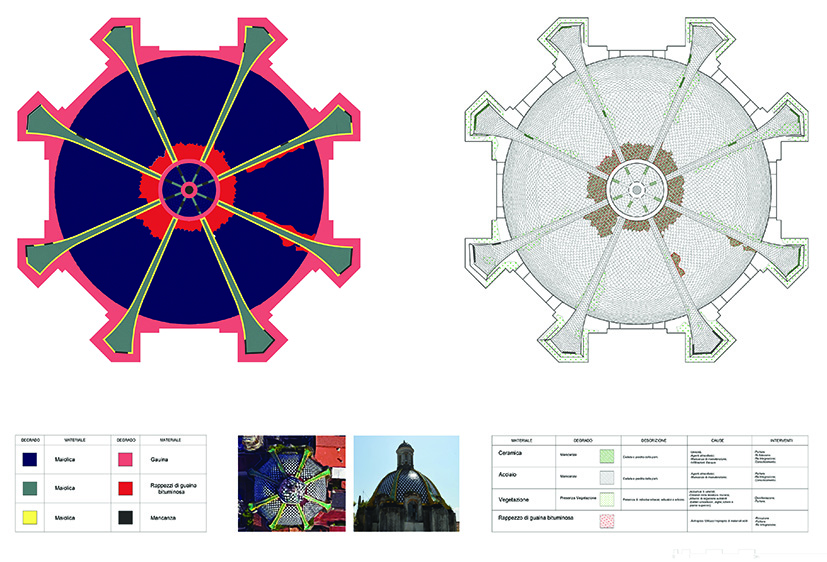 Drone survey for the documentation of degraded buildings
Abstract
The paper presents the results of a survey campaign carried out on the church of Santa Maria della Purità in Giugliano in Campania, a fine example of Baroque sacred architecture built on the designs of the famous architect Domenico Antonio Vaccaro. The church has been closed to the public for 27 years due to the danger of falling portions of stucco and plaster, damaged by copious water infiltration, and has lesions on the intrados of the dome. On the extrados, on the other hand, portions of the covering's majolica tiles are missing, and vegetation is present. The survey therefore aimed to document both the geometry of the building, of which a recent survey was not available, and the deteriorating conditions of the structure and cladding. Due to the unsafe conditions limiting the stay inside the church, it was decided to use expeditious data acquisition procedures. The survey of the church of Santa Maria della Purità was carried out with the integration of two instrumentations: the drone survey of the exterior, which was especially useful for documenting the extrados of the dome and the bell tower, and the terrestrial laser scanner survey for acquiring data on the interior of the church. In both cases, the latest generation of instrumentation was used, with simple usability, good accuracy and short time frames. The result is a georeferenced point cloud, which can also be visualized in the form of a 3D mesh, that can be used for the interpretation of the artifact, its geometric characteristics and its condition of degradation.
DOI: https://doi.org/10.20365/disegnarecon.29.2022.7
Keywords
Small drones; Low-cost survey; Degrade documentation; Remote sensing; 3D modelling.
Refbacks
There are currently no refbacks.
Copyright (c) 2022 Manuela Piscitelli
DISEGNARECON
ISSN 1828 5961
Registration at L'Aquila Law Court no 3/15 on 29th June, 2015.
Indexed in SCOPUS. Diamond Open Access. All papers are subjected to double blind peer review system by qualified reviewers.
Journal founded by Roberto Mingucci