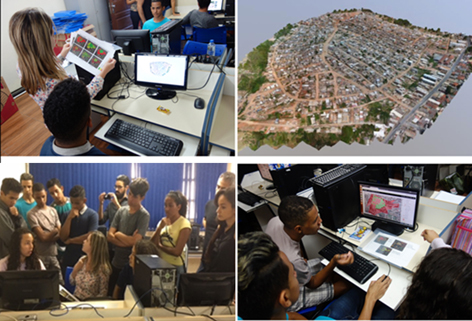 Geodesign Facing the Urgency of Reducing Poverty: The Cases of Belo Horizonte
Abstract
Belo Horizonte, as well as other Brazilian cities, takes the challenge to attend the urgency of reducing poverty in precarious settlements. The Municipality has a kind of informal settlements, that were resulted from orchestrated urban recent movements and that are inhabited by low-income families. They are called "urban occupations". These areas, classified in Belo Horizonte's Mater Plan as Areas of Special Social Interests, need significant actions to plan and carry out structuring interventions for urban and legal regularization. Methods had to be tested to construct a new way to develop these areas, because they present latent dynamics and redraw over themselves several times. Geodesign methodology was used to organize tables of discussion, co-creation of ideas and composition of proposals through consensus by approximation.
Keywords
Geodesign; Irregular Settlements; Participatory Planning
References
Fu, P., & Sun, J. (2010). Web GIS: principles and applications. Esri Press.
Hudson-Smith, A. P. (2012). Visioning and visualization: people, pixels and plans. Journal of Location Based Services, 6(4).
Nyerges, T., Ballal, H., Steinitz, C., Canfield, T., Roderick, M., Ritzman, J., & Thanatemaneerat, W. (2016). Geodesign dynamics for sustainable urban watershed development. Sustainable Cities and Society, 25, 13-24.
Prensky, M. (2001). Digital natives, digital immigrants part 1. On the horizon, 9(5), 1-6.
Ramasubramanian, L., & Quinn, C. (2006). Visualizing alternative urban futures: using spatial multimedia to enhance community participation and policymaking. GIS for sustainable development. Bringing geographic information science into practice towards sustainability, 467-486.
Rosen, L. D. (2011). Teaching the iGeneration. Educational leadership, 68(5), 10-15.
Steinitz, C. (2012). A framework for geodesign: Changing geography by design.
Zyngier, C. M. (2016). Paisagens urbanas possíveis: códigos compartilhados através dos sistemas de suporte ao planejamento e do Geodesign. Doctoral thesis, Universidade Federal de Minas Gerais, Escola de Arquitetura, Brasil.
Refbacks
There are currently no refbacks.
Copyright (c) 2018 Lívia de Oliveira Monteiro, Ana Clara Mourão Moura, Camila Marques Zyngier, Ítalo Sousa Sena, Priscila Lisboa de Paula
DISEGNARECON
ISSN 1828 5961
Registration at L'Aquila Law Court no 3/15 on 29th June, 2015.
Indexed in SCOPUS. Diamond Open Access. All papers are subjected to double blind peer review system by qualified reviewers.
Journal founded by Roberto Mingucci