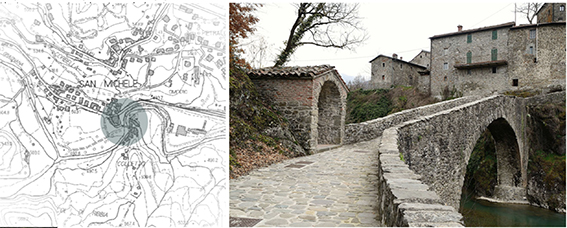 Digital survey for landscape knowledge: Garfagnana case studies for tourism development and Versilia case study for hydraulic analysis.
Abstract
The design and representation of the landscape, through the tools provided by the survey, are irreplaceable means of knowledge of the territory, therefore they present themselves as indispensable elements to start any path of analysis or project of the spaces. This paper aims to show some documentation experiences of the territory, through different techniques of digital survey and graphic representation, which, starting from the survey, develop with different purposes: on the one hand the project for the documentation of the basin area of the streams that flow into the Fiumetto, a watercourse between Pietrasanta and Forte dei Marmi, which aims to experiment modern digital surveying techniques on the coastal landscape of Versilia to use the data for hydraulic modeling; the vastness of the area to be surveyed requires high reliability at sufficiently detailed restitution scales (1:100), with the aim of creating a three-dimensional model of points from which to extract the morphology of the watercourses and (300dpi, 3cmx3cm) the various crossings, in order to provide hydraulic engineers with all the tools useful for simulating on hydraulic softwarws the flooding scenarios; on the other the documentation project of the system of routes within the municipality of Garfagnana with the aim of enhancing and promoting the route, not only from the point of view of historical preservation, but also from future tourist use. To make this possible the University of Florence collaborates with Italian Cycling Federation, in the belief that the care of widespread cycling routes can make the most of the territory, also correctly responding to the current needs of environmental sustainability. The proposal to recover ancient routes and medieval and sixteenthcentury bridges is to be considered foundational: there is the possibility of bringing out an impressive number of architecturally important structures to cross and visit along the route.
DOI: https://doi.org/10.20365/disegnarecon.22.2019.3

Keywords
Digital survey, Garfagnana, Versilia, bridges, canals
Refbacks
There are currently no refbacks.
Copyright (c) 2019 Stefano Bertocci, Matteo Bigongiari, Marco Ricciarini
DISEGNARECON
ISSN 1828 5961
Registration at L'Aquila Law Court no 3/15 on 29th June, 2015.
Indexed in SCOPUS. Diamond Open Access. All papers are subjected to double blind peer review system by qualified reviewers.
Journal founded by Roberto Mingucci