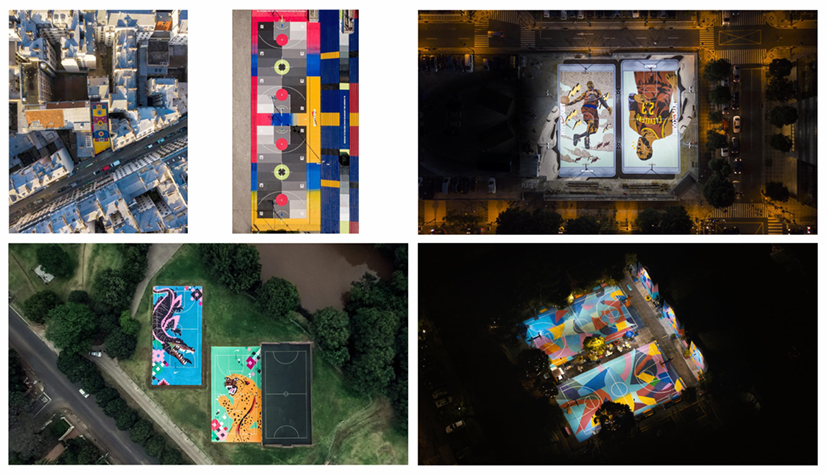 From the Wall to the Pavement and Back. Murals in the Epoch of Drones. [with an interview with the artist Giulio Vesprini]
Abstract
Two phenomena undoubtedly represent our times: drones and street art. Both hit the headlines, are viral, versatile; ignoring them is impossible. In recent years, as flagships of technology and contemporary art, they have experienced points of contact and fusion, a kind of 'symbiotic short circuit' between the two.
On the one hand, the image plane of street art has flipped from vertical to horizontal — roofs, the pavement, basketball courts — so passers by do not see the murals on their walks through the streets, but rather through the computer's eye, which displays satellite maps and drone footage spread through social networks. On the other hand, the movement of drones has changed from predominantly horizontal to vertical when used as piloted or automated hands to spray the city walls.
This paper retraces and reflects on the fusion in progress between street art, urban planning, and drones to investigate how these phenomena are transforming our cities and societal customs in a context where art and technique no longer maintain their established borders and statutes in their traditional form. The text closes with an interview with Giulio Vesprini, an internationally renown Italian street artist and art director of the collective street art project 'Vedo a Colori – Street Art al Porto' (Civitanova Marche, since 2009).
Keywords
Street art; Drones; Urban planning; Horizontal frame.
Refbacks
There are currently no refbacks.
Copyright (c) 2020 Marta Magagnini
DISEGNARECON
ISSN 1828 5961
Registration at L'Aquila Law Court no 3/15 on 29th June, 2015.
Indexed in SCOPUS. Diamond Open Access. All papers are subjected to double blind peer review system by qualified reviewers.
Journal founded by Roberto Mingucci