"DISEGNARECON" is an international, on-line, free and open access and blind peer reviewed scientific journal focused on researches and case studies in the field of architectural heritage design, representation and communication. It invites submissions on these topics and promotes discussion and debate between scholars from Engineering and Architecture Schools. The journal is published by the University of L'Aquila (Italy).
Editorial Director: Mario Centofanti; Vice Editorial Director: Roberto Mingucci
Editor in Chief: Stefano Brusaporci,
Journal Manager: Ilaria Trizio
Editorial Board: Giuseppe Amoruso, Massimiliano Lo Turco, Mariangela Liuzzo, Enrico Cicalò, Alessandro Luigini, Michele Russo. Editoral Assitant: Alessandro Giannangeli; Pamela Maiezza
Scientific committee: (Italia) Mario Centofanti, Vitale Cardone, Simonetta Ciranna, Secondino Coppo, Patrizia Falzone, Francesca Fatta, Riccardo Migliari, Roberto Mingucci ; (Spagna) Pilar Chias Navarro, Pablo Rodriguez-Navarro;  (Argentina) Mauro Chiarella; (Brasile) Altino Barbosa Caldeira, Ana Clara Mourão Moura, (New Zealand) Renata Jadresin-Milic.
Scientific Journal of Architecture and Cultural Heritage
Indexed by SCOPUS
Vol 11, No 21 (2018): Advanced Technologies for Historical Cities Visualization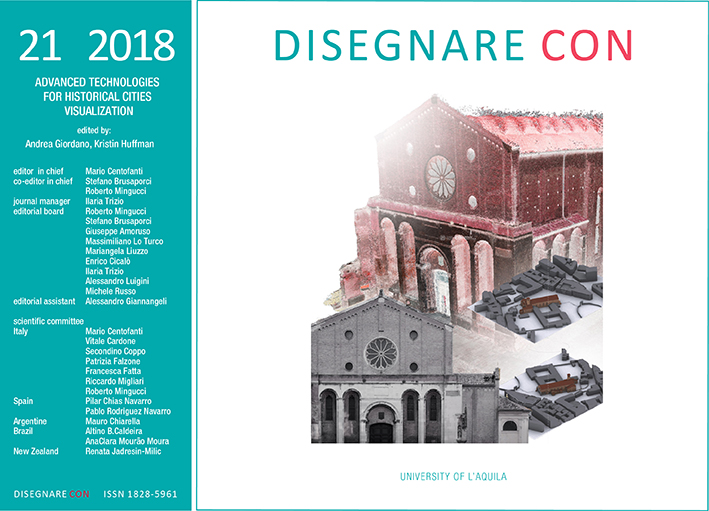 Edited by Andrea Giordano and Kristin Huffman